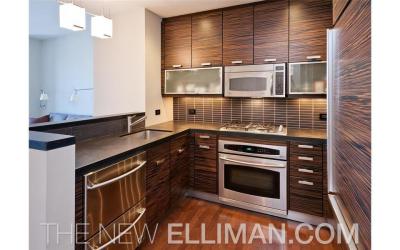 It's a far cry from a log cabin, but lumber billionaire Margaret Magerko was apparently quite taken with a condo of the 21t floor of the Chelsea Stratus tower.
The president and owner of 84 Lumber snapped up the 2-bedroom, 2-bath condo at 101 W. 24th Street for the $1.9 million ask, buying through the Margaret Magerko Revocable Trust, according to city property records. The condo, owned by Francis Hoi To Lee, was on the market for a mere 25 days, listed with Douglas Elliman brokers Andrew Anderson, Andrew Yeh and Melissa Morrongiello.
We presume that the apartment will to be a pied-a-terre for the lumber queen, as Ms. Magerko's primary residence is in Pennsylvania, near the company's headquarters in Eighty Four. (The community, which went by the super-popular name of Smithville during its early years, is said to have adopted "Eighty Four" in the 1880s to avoid being mixed up with the other Smithville, PA).
Ms. Magerko, who learned the lumber business at her father's knee, was once worth $2 billion, but lost a good chunk of her fortune as the company, which sells primarily to professional contractors, stumbled during the housing market crash and ensuing construction doldrums.
Well, Ms. Magerko may take comfort in her new home, which offers floor-to-ceiling windows from which she can watch construction projects rise in Manhattan's almost-bustling market.
The condo also features what might be almost call a wooded kitchen, given the overwhelmingly lovely Macassar Ebony wood cabinetry, as well as yellow birch floors throughout, so Ms. Magerko should feel right at home. More urban amenities in the building include an "ultra modern fitness center," a roof deck and "an intimate lounge" with a large-screen TV (we don't generally think of intimate and large-screen TV in the same breath, but there's also a fireplace and billiards room).
kvelsey@observer.com