If you plan to visit the Whitney before June 3—and you should—please stop reading here. I don't want to ruin what is waiting for you on the fourth floor.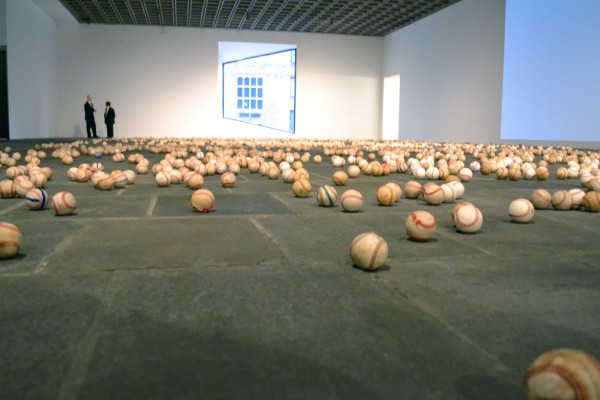 After months of performances there by Michael Clark, Sarah Michelson and others, the sets and seating are gone. The space has been stripped bare, and there are now hundreds of beaten-up baseballs scattered  across the floor. It is a sculpture by the artist Lutz Bacher called Baseballs II (2011), and it one of the most beautiful installations I have ever seen.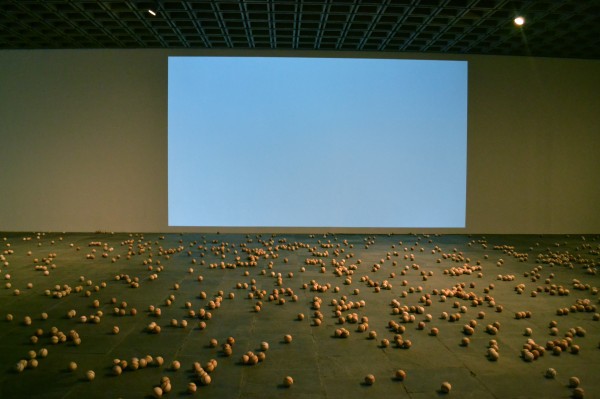 Soothing, melancholy piano music plays from speakers. "Tomas," a woman says, "what are you thinking?" There is the sound of kissing, and a moment later a reply: "I am thinking how happy I am." It's from a scene in The Unbearable Lightness of Being (1988) in which two lovers drive through the rain, repurposed here for Ms. Bacher's 2011 piece What Are You Thinking, which is accompanied by a blank video image projected on the back wall that shifts between black and white.
Much has been made about the 2012 biennial's admirable commitment to performance-based work and pieces that changed over time. There were twists and turns and surprises—the Oscar Tuazon sculpture that because a runway for K8 Hardy, the Tom Thayer constructions that became puppets in a play, Sam Lewitt's bulbs of Ferrofluid that buzzed and pulsed as fans blew over them, the room where Dawn Kasper lived and worked and held concerts and the Kai Althoff installation that began as an ornate tapestry and was later supplemented by a large sculpture.
And now, after all of that movement and energy, curators Elisabeth Sussman and Jay Sanders have left us with a room full of objects that have each gone through their motions and come to a halt.
Pick your metaphor. I thought of the thousands of people who have visited and the artists who have appeared at the Whitney over the past few months—and the Breuer building as a whole over the past 45 years. As a child of suburbia, I also remembered the uncanny feeling of arriving at a baseball field or tennis court and finding cast-off balls, which were once the center of so much effort and energy, relics of people who are no longer there. It is startlingly still in there.
Fittingly, Ms. Bacher's installation will extend beyond the close of the biennial (Sunday, May 27) until June 3, a fleeting, final trace of this humble, poetic and ultimately enigmatic exhibition.