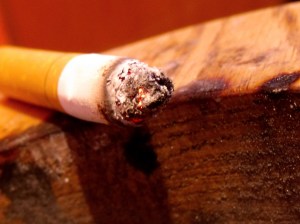 It may be a small victory in a losing war, but at least José Arozamena can come home tonight, light up a cigarette and take a long, celebratory draw.
A judge has ruled that Mr. Arozamena, who lives at 260 Park Avenue South, can continue to light up in his apartment, the Post reports.
The condo board may have been emboldened by Mayor Bloomberg's most recent move to kick smoking in the butt, but they were a little overzealous. After all, the mayor's proposed legislation would only have required formal smoking policies and disclosures, not full-out bans.
Moreover, smoking wasn't forbidden by the condo, even if the board did try to argue that the smell of smoke violated house rules.
The judge found scant proof that Mr. Arozamena was the source of the stench, if there was a stench, or that his love of lighting up was unreasonable conduct. It all made Mr. Arozamena as hard to kick as a two-pack-a-day habit.
And while smokers can draw a long, ragged sigh of relief at this news, it's likely to be short-lived, with 59 percent of New Yorkers preferring smoke-free apartment buildings.
But really, as irksome as the occasional whiff of cigarettes can be, anti-smoking crusaders should put things in perspective. At least they don't live next to a fish farming enthusiast.
kvelsey@observer.com