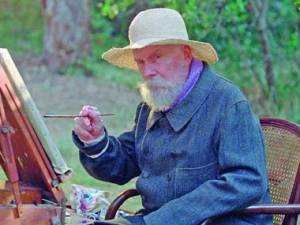 Guy Ribes, an expert forger of the paintings of Pierre-August Renoir who spent three years in prison for his craft, is now appearing in a feature film about the Impressionist painter. His hand will be seen on camera, painting works by Renoir.
The film, called Renoir, will debut at Cannes. All of Renoir's art that appears in the film will be made by Mr. Ribes. Here is a brief plot synopsis, via The Independent:
[S]et during the First World War, depicts the artist in his twilight years. Tormented by the loss of his wife, arthritis and the terrible news that his son Jean has been wounded in action, Pierre-Auguste has lost the will to paint. When a beautiful teenage girl comes to his house, he is filled with a new passion for painting. When Jean returns home to convalesce, he too falls for her. Jean, who went on to become one of cinema's foremost directors, with classics such as La Grande Illusion, eventually married her and cast her in his films.
Mr. Ribes was homeless at the time that he was given work in the film, his lawyer said.