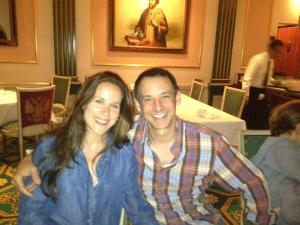 Joe Biden's daughter, Ashley, 30, is getting married on Saturday to a 45-year-old Philadelphia otolaryngologist and plastic surgeon named Howard Krein. With a little digital digging, we found out more about Dr. Krein including his taste for techno, nightclubs and roping cattle in rodeo competitions.
Ashley Biden, the vice president's youngest daughter, is a social worker who obtained a master's degree from the University of Pennsylvania in 2010. Dr. Krein asked her to marry him last September.
Dr. Krein is affiliated with Jefferson University Hospital in Philadelphia where he specializes in cosmetic and reconstructive facial surgery. He also serves as Chief Medical Officer of OrganizedWisdom, a website that allows doctors to create "digital offices" that was co-founded by his brother, Steven. He has also participated in missions to Belize where he conducted pro bono surgeries on children suffering from cleft lip and cleft palate.
Dr. Krein grew up in New Jersey and went to high school in Cherry Hill. According to a video interview posted on the Jefferson University Hospital Facebook page, he developed an interest in the rodeo during his youth in New Jersey.
"Growing up in Cherry Hill, there weren't that many active horse farms. But there was one when I was growing up and I got a job exercising the horses there starting when I was about 12," Dr. Krein said in the video. "It just so happened that the guy who owned the farm was a cowboy, he was a calf roper, and, you know, working at the farm, I slowly picked it up. He took me under his wing and taught me calf roping."
The future doctor ended up participating in CowTown, a weekly summertime rodeo competition in Pilesgrove, New Jersey. In his video interview he said his mother "wasn't thrilled" about his rodeo hobby. He also worked as a volunteer fireman from the age of 16 to 20.
Dr. Krein went on to get his bachelor's degree in biology from Rutgers in 1990. He followed that up by getting a master's in neuroscience and a PhD in Cell and Developmental Biology at the University of Medicine and Dentistry of New Jersey's Robert Wood Johnson Medical School, which he attended from 1990 until 1996. After attaining his PhD, Dr. Krein went to Jefferson Medical College for an MD, which he obtained in 2000.
On his Facebook page, Dr. Krein has several non-medical pursuits listed among his "activities and interests" including several nightclubs and a techno record label and DJ. Based on his Facebook page, Dr. Krein's preferred nightlife destinations in the Philadelphia area are; Parx Casino, a gambling establishment that offers "slot play, table games, poker, dining and nightlife," 360 Parx, a lounge located inside the casino and Whispers, a club that bills itself as "Philadelphia's premier venue for upscale nightlife."
Based on his apparent love of clubbing and dance music, the answer Dr. Krein gave when asked to describe his personal motto in his video interview should come as no surprise.
"Live your life to its fullest and I think also appreciate every day," he said.