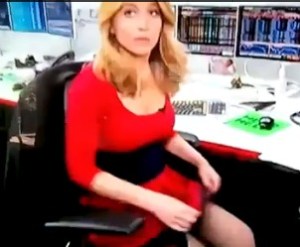 Golf claps to Bloomberg TV markets reporter Sara Eisen for gamely continuing with a segment yesterday after some technical difficulties resulted in footage of the anchor rooting around in her underwear.

[youtube http://www.youtube.com/watch?v=4jdd6I-KuSY&w=560&h=315]
Gizmodo's Mario Aguilar wondered what that big black thing hiding under her skirt was, but commenters quickly pointed out that it was the wireless unit for her mic. Though now the question remains: who puts a unit under their skirt? Wouldn't that be distracting?
This was especially unfortunate timing for Ms. Eisen, who last Friday quit her co-hosting duties at Bloomberg Radio's 'On the Economy" show. On Twitter, she told her fans that she was leaving in order to "focus on my work at Bloomberg TV."