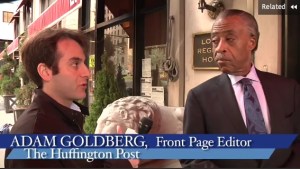 A breakfast meeting at the see-and-be-seen Loews Regency Hotel has always had its hazards. Diners risk Page Six sightings and uncomfortable run-ins with political foes. Losing a coveted window seat spells professional disaster.
Now, two more dangers lurk outside.
Huffington Post front page editor Adam Goldberg and associate video editor Hunter Stuart have taken to loitering outside the Park Avenue hotel one morning each week in hopes of snagging an impromptu interview with the newsmakers inside. They're taping their efforts for a new Huffington Post video series, "Power Breakfast."
The series quietly launched in March but gained traction last week, when the pair landed a serendipitous chat with Newsweek editor Tina Brown, whose stirring gay Obama cover was on newsstands and in the news.
"It wasn't obvious that it would work," Mr. Goldberg told Off the Record in an e-mail Q&A. "I didn't realistically think that just standing outside of this place on a random morning would net any actual newsworthy interviews."
Huffington Post Washington bureau chief Ryan Grim knew better. He came up with the idea for "Power Breakfast" in February, brainstorming ways to get Mr. Stuart, then mostly making video mash-ups, out of the office.
Mr. Stuart recalled: "He said, well, there's this place right in New York where everyone eats—it's called the 'Power Breakfast'—and I bet if you just hung out outside you'd catch some pretty big people walking out of their breakfasts."
"That was news to me," admitted Mr. Goldberg.
Mr. Grim had told them to expect Loews regulars Harold Ford, Jr., and Al Sharpton, but on day one they spotted David Patterson.
"Suddenly we're talking talking to someone who had reached the pinnacle of politics," Mr. Goldberg said, "being parodied on Saturday Night Live."
The series is "very likely" to be featured on the new Huffington Post Streaming Network, now called HuffPost Live, and the pair's high-brow paparazzi act has revealed challenges foreign to the news site's nap machine-enabled newsroom.
In the seconds it takes a newsmaker to get from the hotel to their Town Car, they have to identify them, run them down, hopefully with a timely question by the time they secure their attention. (Although occasionally, the mere mortals among the restaurant's clientele, seeing their camera and microphone, serve as casual tipsters, alerting them to the bold face names inside.)
"We call our tactic 'the polite ambush,'" said Mr. Stuart, who leaves his camera on during the entirety of the three-hour stakeout.
They've only run into trouble with hotel management once—filming on the sidewalk is within their rights—which they got out of with some sweet-talking.
"We tried to interview him, and I think he was flattered that we wanted to," Mr. Stuart said. (He eventually declined.)
And then there are the tourists and passers-by, for whom a video camera and a guy with a microphone are like a beacon for a celebrity sighting to write home about.
"They ask 'Who are you waiting for?' and we say, 'Anyone, really.'"
In addition to Ms Brown, Haley Barbour, Lewis Eisenberg and Cornel West have given interviews. Many more have passed, including actor Willem Dafoe.
"We're interested in talking to regular bankers, even if they're not CEOs," said Mr. Stuart, "but they usually just ignore us or crack a joke as they walk past us."
Still, they say few outings yielded no interviews.
As for Mssrs. Goldberg and Stuart, they indulged the power breakfast only once, on their first outing, March 7. They were seated in the upstairs dining room, The Library.
"They brought us fresh squeezed grapefruit juice and a pitcher full of coffee as soon as we sat down," recalled Mr. Stuart, who ate a $14 bowl of oatmeal and a side of thick-cut bacon. Mr. Goldberg had the salmon benedict, which comes with caviar garnish. They expensed the $70 meal.
Now, they just meet on the sidewalk outside at 7 a.m.; Mr. Goldberg toting McDonald's coffee.
"Powerful people seem to like early meals, so we get there early too," he said.
"Sometimes I bring something for Adam to eat because he never eats breakfast," Mr. Stuart added.