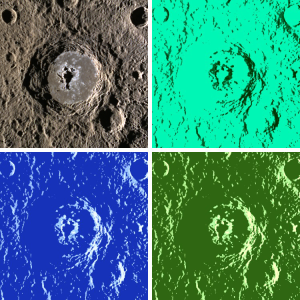 The next time you train your telescope on Mercury, dear reader, take note that you are looking at a planet filled with craters that carry the fine and impressive names of renowned artists. It seems that the experts at the International Astronomical Union who are charged with naming various extraterrestrial geographic features like to name craters on the planet after various artistic figures.
Late last month, names were bestowed on 23 new craters, creating the Magritte crater, the Seuss crater and the Warhol crater, which measures about 59 miles across. The IAU just released a photograph of the Warhol crater and, thinking whimsically, made it look sort of like a Warhol painting. Here's the agency's description of the crater in its release:
Warhol crater has an unusual elongated central peak, a smooth floor probably formed from impact melt, and abundant hollows.
Among the more than 300 artistic craters on Mercury are examples named for Cézanne, Matisse, Picasso, Raphael, van Gogh and Van Eyck.
Thank you to the Andy Warhol Museum's Twitter account for bringing this to our attention.