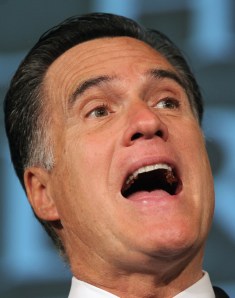 In recent weeks, the Obama campaign has launched a relentless attack on Mitt Romney for his career with Bain Capital, the private equity firm he co-founded in 1984. President Barack Obama, Vice President Joe Biden and their campaign spokespeople have characterized Bain as a parasitic company that makes money through taking over and bankrupting other businesses. By targeting Bain Capital, the Obama campaign isn't just attacking Mr. Romney's past, they're also demonizing a company that has consistently contributed to Mr. Romney's campaign war chest. According to federal campaign finance reports, which include donations made up until the end of last month, Mr. Romney and the PACs supporting his campaign have received a total of $1,800,500 million in contributions from Bain employees.
During this presidential election cycle, Mr. Romney's campaign has received a total of $119,500 in contributions from Bain Capital staffers. Federal campaign finance regulations cap donations to presidential candidates at $2,500 per person. The main Super PAC supporting Mr. Romney, Restore Our Future Inc., has received $1,681,000 from five different Bain Capital executives during this election. Super PAC's, which were made legal through the 2010 Citizens United Supreme Court ruling and may accept donations of unlimited size. Free And Strong America, which is a political action committee that's backing Mr. Romney, has received $56,000 in donations from Bain Capital employees so far in this election cycle. Unlike Super PACs, standard issue PACs like Free And Strong America cannot except donations of over $5,000 per person.
Mr. Romney also received financial support from Bain Capital employees during the 2008 election. In that campaign, Mr. Romney and Free And Strong America received a total of $145,150 from Bain Capital staffers. Mr. Romney's campaign in that race got $105,150 from Bain employees and Free And Strong America received $56,000. Super PACs were not yet legal in 2008 and Mr. Romney didn't make it out of the primaries, so his total contributions from Bain for that race are far less than the seven figure total he managed to pull in from during this year's campaign.
Though President Obama has gone on the attack against Bain Capital, he has also received contributions from employees at the company, albeit far less than Mr. Romney. So far, in this election cycle, President Obama's campaign has received $7,500 from three Bain Capital executives. In 2008, President Obama brought in $55,720 from Bain.