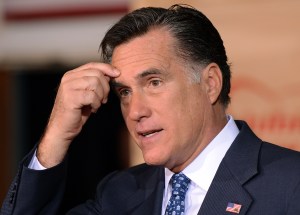 A new story in the Washington Post describes a series of "troubling" incidents where Mitt Romney bullied and pranked classmates during his time at a tony Michigan prep school in the 1960's including one story where he and a group of boys pinned down another student and cut his hair. This is now the second story to emerge of Mr. Romney giving someone a forced haircut.
According to the Post, John Lauber, the boy who had his hair cut by Mr. Romney was  "perpetually teased for his nonconformity and presumed homosexuality." Mr. Romney and a group of other boys followed Mr. Lauber one day and "tackled him and pinned him to the ground." As he cried and "screamed for help," Mr. Romney "repeatedly clipped his hair with a pair of scissors."
Former classmates who witnessed and participated in the shearing recalled the incident as "vicious" and disturbing. Mr. Romney's campaign initially said he couldn't recall the incident, but they quickly attempted to do damage control by scheduling a radio interview with Fox News' Brian Kilmeade where Mr. Romney apologized for his history of high school "hijinks and pranks."
"Back in high school, I did some dumb things and if anybody was hurt by that or offended, obviously I apologize for that," Mr. Romney said. "I participated in a lot of hijinks and pranks during high school and some might have gone too far and for that, I apologize."
Mr. Romney apparently kept his haircutting habit in college. A story published in the Washington Post last month detailed a different incident from his time at Stanford where he and a group of friends "lured rival University of California students into a trap in which his buddies 'shaved their heads and painted them red',"
These scissor and shaving incidents may prove to be the most controversial political haircuts since John Edwards'  $400 coiffure made headlines during the last presidential election.