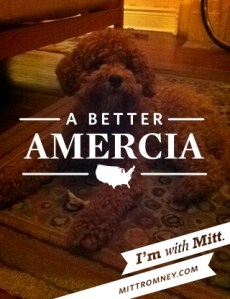 It's the kind of mistake that's irresistible to social media wits: an iPhone app for Mitt Romney's presidential campaign misspells the word America. The app lets users take photos and it currently superimposes the legend "A Better Amercia (sic)" over them. While the Romney campaign is seeking to have the app corrected and replaced in the iTunes store as soon as possible, jokes about the screw-up spread like wildfire across Twitter Tuesday night. It is tempting to run down a catalogue of wisecracks but one tweet represents the general tone pretty well:
Won't you join @andybowers' lead and have your dog share @MittRomney's wish for "A Better Amercia"? Here's mine:twitpic.com/9qte94

— Dana Stevens (@thehighsign) May 30, 2012
No one comes away completely clean, though–the Washington Post's blog entry regarding the screw up was titled "Romney app misspells 'Amercia,'"–unintentionally (we guess?) implying Mr. Romney's app had misspelled the misspelling. Or something.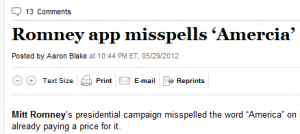 Embarrassing as the foul-up may be for the otherwise tightly organized Romney campaign, at least it's unlikely anyone will lose a foot over it.