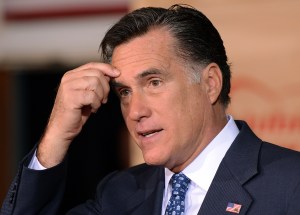 Former President George W. Bush expressed his support for Mitt Romney in a brief exchange with an ABC reporter as he boarded an elevator after a speech in Washington, D.C. today.
"I'm for Mitt Romney," Mr. Bush said.
Though ABC posted the story over two hours ago, Mr. Romney's campaign has yet to send out any official press release or statement trumpeting Mr. Bush's endorsement. On the other hand, the Obama campaign quickly pounced on the chance to tie Mr. Romney to Mr. Bush, who according to the most recent polls is viewed unfavorably by the majority of Americans.
"President Bush has endorsed Governor Romney, and Governor Romney has endorsed a return to Bush-era economic policies: massive tax cuts for the wealthiest and no accountability for Wall Street, which led to huge deficits and tepid growth. Now Romney wants to double down on those same, failed policies," Obama For America press secretary Ben LaBolt said in a statement sent out less than an hour after ABC published their story on Mr. Bush's comment.
"While President Obama has pursued policies that have helped create more than 4.2 million private sector jobs, revived manufacturing and the auto industry, Governor Romney would return to the same policies that dragged our economy down and punished the middle class," Mr. LaBolt said.
Though the Romney campaign hasn't issued any statement about Mr. Bush's endorsement today, they have hardly been quiet about other subjects. Mr. Romney's team has sent five other press releases in the two hours since the Bush news broke including a statement criticizing the effect of President Obama's economic policies on Iowa, two responses to quotes from the president's appearance on The View, an "in case you missed it" email announcing Senator Kay Bailey Hutchison's endorsement of Mr. Romney and an email highlighting statements in support of Mr. Romney made by Louisiana Governor Bobby Jindal on Fox News this morning.
As of this writing, the Romney campaign has not responded to a request for comment on this story.
Update: The Romney campaign responded to questions about Mr. Bush's endorsement by saying they "welcome" his support but don't expect there to be joint campaign appearances with Mr. Romney and Mr. Bush.