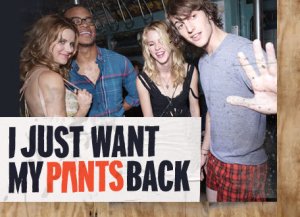 Despite critical accolades, and the benefit of not being the Jersey Shore, the Doug Liman-produced scripted series I Just Want My Pants Back has not been renewed for a second season on MTV, according to Deadline. Apparently there can't be two shows about Greenpoint hipsters on television at one time, and Girls was just getting more hype.

On the surface, this cancellation makes no sense…MTV even wrote a really nice note about the show, giving no reason for the decision not to renew.
"We're proud to have aired I Just Want My Pants Back, with its impressive creative pedigree and talented group of actors. Many factors go in to determining renewals, however, and ultimately, we decided not to move forward with an additional season of Pants."
But what are the factors? It might have been the ratings, which were admittedly slumpy: going from a premiere of five million viewers to an average of one million per episode. Still, those are pretty decent ratings for the network.
Another theory is that Pants is too similar to the spate of hipster-themed programming coming to MTV next season: Underemployed, Gonna be Famous, and new seasons of Awkward and Teen Wolf.
But query: has too many shows about drunk housewives ruined Bravo's reputation? Or too many sullen teenagers brought down CW's ratings? Have too many reality shows about pregnant teenagers just oversaturated MTV's market? Why not an all-hipster network?
But it's not all bad news: Hypnotic Studios, Mr. Liman's production company with David Bartis, is now free to pitch the show to other networks. (The series was originally created for NBC.) Might we suggest IFC? Its upfronts were very hipster friendly.
Rumor has it that Pants is already being reviewed for another home. We've reached out to Mr. Liman and Hypnotic, and will update if/when they respond.