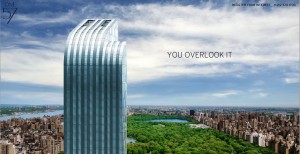 Intrigue is afoot tonight as real estate sleuths are likely curious to find out who has paid at least $90 million for a 10,923-square-foot penthouse on the upper floors of One57. According to a report in the New York Times the buyer's home country and name won't be revealed, and neither will the precise amount paid for the unit, which is located on the 89th and 90th floors of One57. Whoever they are, they've topped the $88 million paid earlier this year by a trust for Ekaterina Rybolovleva, the daughter of billionaire Russian Dmitry Rybolovlev. Every square foot of the residence is apparently worth a new-ish, gently-used car:
The One57 penthouse, which features 23-foot ceilings in a grand salon, traded for about $8,000 per square foot, Mr. Barnett said. He called the purchase by the Rybolovlevs, agreed to late last year, "not a good deal," saying the market for superluxury properties in New York should be closer to $10,000 per square foot.
The Rybolovlevs paid over $13,000 per square foot.
Though the $90 million price tag sets a record,  Extell Development Company president Gary Barnett reported that his company nearly sold another unit for in excess of $100 million earlier in 2012. Sadly, that deal fell through. But the plucky developer is unbowed, telling the Times that he is "hopeful" Extell will eventually sell a property at One57 or one of its other buildings for more than $100 million. The top penthouse had been asking $115 million most recently.
Of the anonymous buyers Mr. Barnett would only say they were a "very nice family" and would reside in the penthouse. He denied that the buyers were from "… the former Soviet Union" at all.