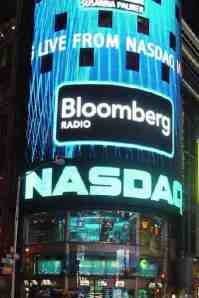 Muted response: As the clock ticked past Facebook (META)'s scheduled open, Nasdaq stayed mum on the technical glitches that delayed trading in the social media company's stock by 28 minutes. The resulting chaos lasted hours, causing confusion over who had bought and sold how many shares at what prices—and leading to about $115 million in losses at Knight Capital, Citadel, Citigroup (C)'s Automated Trading Desk and UBS, the stock's four largest market makers. Why didn't Nasdaq just halt the stock? Reuters has the minute-by-minute.
Falling star? Morgan Stanley's star investment banker Michael Grimes believes he did an excellent job with Facebook IPO, according to the Wall Street Journal. Fault for Facebook's languishing stock price—$31.91 at Friday's close—lies with the technical glitches in Nasdaq's trading operation, Morgan Stanley officials are whispering. That won't stop rivals from dropping the FB-bomb when competing with Morgan Stanley for clients.
Hedging Europe: It's unlikely that the European crisis will give way to an investing legend like George Soros, who made $1 billion petting against the British pound in 1992, according to Reuters. Hedge fund managers are plying varied strategies—from currency trades to bets on bank stocks or sovereign debt or even a more bullish attitude towards gold in anticipation of future fallout in Europe.
New polls showed that Greece's pro-bailout parties are gaining, easing fears of a eurozone exit. The news out of Spain was less good, as the government grapples to support ailing lender Bankia SA.
Activist gas: Carl Icahn bought a 7.56 percent stake in Chesapeake Energy, the natural gas giant reeling from a series of disclosures CEO Aubrey McCLendon's potential conflicts of interest. Mr. Icahn has called for the election of a new slate of directors before the board votes on a successor to Mr. McClendon as chairman. "Having the current board select a new chairman without shareholder approval and without allowing for shareholder representation is akin to asking the fox, who has plundered the hen house, to choose another fox to assist it in standing guard over the remaining hens," Mr. Icahn wrote in a letter to the board.
Pay dirt: Comp at European banks was down.
A Bloomberg columnist sides with Jamie Dimon in wondering about executive pay at media companies.
Bean rush: Hydrofrackers depend on guar gum; farmers in northern India's desert states reap bounty.
New directions: JPMorgan is thinking about putting directors with actual risk management experience on its boards risk committee.
Re-primed: Lou Lebedin, JPMorgan's global head of prime brokerage, is being replaced.