This is very unfortunate: Neil Gaiman, a personal hero of ours, has taken to Twitter, peeved by our tongue-in-cheek recap of his unique commencement speech for The University of the Arts in Philadelphia. (For the record, Neil Gaiman is the tops and we enjoyed his speech very much.)
So please, let us clarify:

1. The headline, "Dissecting Neil Gaiman's Commencement Speech: Lying, Lateness, and Other Ways to Succeed in Freelancing" was not meant as a negative, literal translation of the points in his speech. First, it was meant only semi-literally, as Mr. Gaiman does speak to lying on his resume to get jobs, and does say that "People will forgive the lateness of the work if it's good." But it was meant to titillate (as titles are wont to do), not offend.
2. Commenters have been in an uproar over our comment that "becoming a journalist for Christ's sakes" is the path less taken on one's way to becoming a fantasy/sci-fi writer. We hope Mr. Gaiman forgives us for invoking the Lord's name in vain. The author of the post admits that she is nothing but inspired by Mr. Gaiman's ability to get the hell out of this rat-race.
3. The author of the post would also like to submit as evidence the fact that she has a tattoo inspired by Delirium (albeit an abstract interpretation of the art from The Sandman: Endless Nights's story "Going Inside") as evidence of her fangirl love of Mr. Gaiman's work, and any jabs at the series were made as an act of love.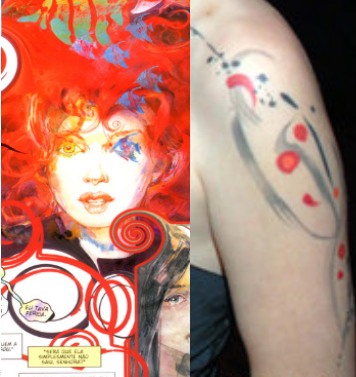 4. We understand the confusion over the "two out of three qualities for freelancing" controversy. While we disagree with some of the combinations that Mr. Gaiman makes– that being pleasant and on time is good enough for publishers to continue employing mediocre writing–we were in error when we said "You can be grumpy and late as long as your work is good." That is sometimes the case, but not the point that Mr. Gaiman was trying to make. Which is that you don't have to be nice, or on time, or brilliant…but you have to be at least two of the three.