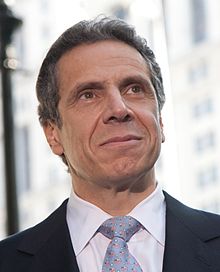 A new Siena Research Institute poll of voters in New York State shows that, while still high, Governor Andrew Cuomo's favorability ratings are at their lowest since he took office in 2011. The poll also showed President Barack Obama up 20 points over Mitt Romney in the Empire State, Senator Kirsten Gillibrand way ahead of her three potential opponents, displeasure with Occupy Wall Street and the Tea Party, strong support for raising the minimum wage and high favorability ratings for the Legislature. 
According to the poll, Governor Cuomo is viewed favorably by 68 percent and unfavorably by 24 percent. His favorable rating was down five percent, tying his lowest rating ever on the poll, but still quite high.
"While 68 percent ties for the lowest favorable rating Cuomo has had since becoming governor, he continues to be viewed favorably by nearly three-quarters of Democrats and more than two-thirds of Republicans. He is viewed favorably by 73 percent of downstate voters and 61 percent of upstaters," Siena's Steven Greenberg said. "And despite a small drop in his favorability rating this month, less than one-quarter of voters view Cuomo unfavorably."
President Barack Obama also saw his favorable rating drop slightly with 60 percent of New York voters viewing him favorably compared to 58 percent in last months Siena poll. However, his unfavorability dropped to 38 percent from 39 and he still maintains a 20 point lead over the presumptive Republican nominee, Mitt Romney. The poll shows Mr. Romney is viewed unfavorably by 57 percent of New Yorkers with just 33 percent having a favorable impression of him.
Senator Gillibrand beat her three rivals in the poll by more than a two-to-one margin. In a hypothetical matchup against Congressman Bob Turner, Ms. Gillibrand received 59 percent of the vote compared to 25 percent for Mr. Turner. George Maragos also polled at 25 percent against Ms. Gillibrand, though in a race against him she scored a slightly higher 60 percent. Attorney Wendy Long fared ever-so-slightly better with 26 percent compared to 60 for Ms. Gillibrand.
According to the poll, both the Tea Party and Occupy Wall Street are viewed unfavorably by the majority of New Yorkers. The Tea Party's numbers rose a bit this month with 30 percent of voters viewing the movement favorably compared to 28 percent in November and 58 percent viewing it unfavorably compared to 60 percent in November. Occupy Wall Street favorable rating dropped from 45 percent in November to 38 percent. The unfavorable rating for Occupy Wall Street climbed from 44 percent in November to 52 percent.
The poll also showed over three-quarters of New Yorkers support raising the minimum wage from $7.25 to $8.50. Both houses of the State Legislature got their highest favorable ratings since Siena began polling on the Assembly and State Senate. The poll showed 42 percent of voters view the Assembly favorably and 46 percent have a favorable view of the State Senate. In spite of this, according to the poll, voters oppose giving State legislators a pay raise by a nearly three-to-one margin.