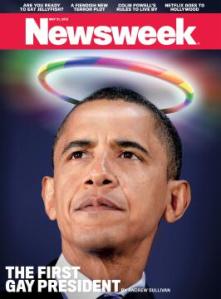 Yesterday Newsweek/Daily Beast editor Tina Brown reclaimed her crown as queen of controversial covers. It had been briefly snatched by Rick Stengel, whose Magazine of the Year, TIME, caused a media firestorm Thursday by featuring a hot, young mom breastfeeding a three-year-old on its cover. TIME's image was more arresting, but the May 21 issue of Newsweek (on newsstands today) makes a much more provocative claim—that Barack Obama is the first gay president.
We were always told James Buchanan held that title but, inside, Andrew Sullivan argues that the President 'gets' gay people because, as a biracial American, "Barack Obama had to come out of a different closet."
Look at us, talking about magazines! Like it's 1995 again.
According to The Post, "When Tina saw the Time cover, she laughed and said, 'Let the games begin.'
Your move, Bloomberg Businessweek.