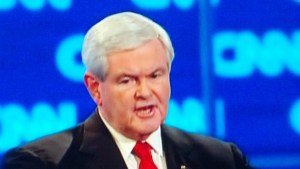 Over a week after the news broke he would be ending his presidential bid and months after he had any chance in hell of actually winning the Republican nomination, Newt Gingrich officially announced his departure from the presidential campaign this afternoon. Mr.Gingrich made his exit with a speech in which he signaled his support for his former rival, Mitt Romney.
"This is a choice between Mitt Romney and the most radical, leftist president in American history," he said.
Like most of his speeches, Mr. Gingrich's farewell was a lengthy, rambling monologue in which he discussed his favorite topic, American history, and the "big issues" that have defined his candidacy including space exploration and neurological research. Mr. Gingrich also took the opportunity to take a stroll down memory lane with reminiscences of his past political campaigns, his time in Congress and his victory in January's South Carolina primary. Mr. Gingrich, who said he has always strived to "move the national debate" said he and his wife Callista plan to stay engaged with political issues.
"We're now going to put down the roles of candidate and candidate-spouse and take back the role of active citizens," he said.
Mr. Gingrich's expression of support for Mr. Romney stopped short of a full-fledged endorsement. However, his campaign spokesman told CNN, "planning is under way for a joint Romney-Gingrich formal endorsement event to be held in a couple of weeks."