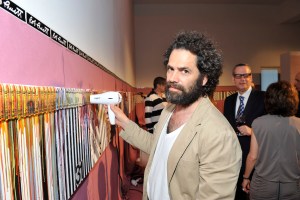 In this month's issue of the sporty Milan–based Kaleidoscope magazine, architecture curator and writer Carson Chan interviews New York gallerist Gavin Brown about the state of contemporary art, his gallery website's charming little blog, capital, the Occupy movement, paying the rent and a variety of other topics. It's a pretty candid, even sobering talk.
At one point Mr. Chan asks Mr. Brown to "reflect on the dangers" of excess and spectacle within the contemporary art world. Here's how the dealer responds:
I am touched by excess. On occasion, I walk through its door and back out again. But in many ways, I need to participate in it; I like to as well. This is the direction the contemporary art culture is going, and if it helps pay the rent, one needs to go along with the caravan. I can go up another road, but it'll be lonely and it won't be profitable, and it is a very, very expensive world right now. As much as it's important to continue a parallel conversation about art and what it means outside of capital, I think I would be foolhardy to deny capital's supremacy. We ignore it at the expense of possibly our very existence. I'm not going to join the Occupy movement. It would be completely inappropriate. I don't belong there. But I can represent my time in what I hope is the most noble of ways. The art that I help to make visible will be visible in 200 years' time, and people will say, "that's how people felt back then," good or bad.
Mr. Brown also discusses Damien Hirst's spot paintings and says, as he has before, that he does not want to be a museum director one day ("It wouldn't pay enough"). But let's not reveal all of the good parts here. Pick up the print edition—the Swiss Institute was giving them away last week—to read the complete interview. There's also a really great essay by Chris Sharp about camp and dandyism in today's art on page 46. Don't miss it.