New York City's much-anticipated bike-share program—the largest planned bikeshare program in the country—is headed to the city this summer. The official website for the program is now live, as Tweeted out by the city, along with a picture of what New York's new bikes will look like. Behold, the big new blue bikes above!
And the prices?
Well, Mayor Bloomberg says they're free (for the city, and taxpayers, technically):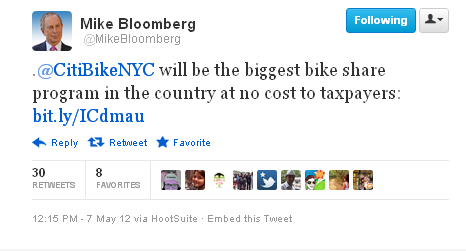 Except, of course, for the vast expense Americans paid to keep CitiBank afloat so they could (live to charge customers more than ever before and) buy us bikes.
As for what they'll cost users?
There are two short-term access options: 24-hour or 7-day. Short-term access pass holders get the first 30 minutes of each trip free and pay additional charges for every 30 minute period thereafter.
And here's the rate sheet: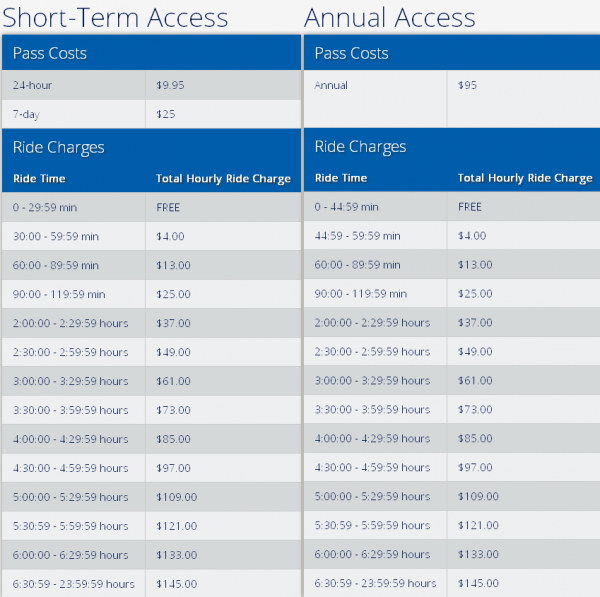 That annual rate seems like a bad idea, in so far as Manhattan will have a new (likely inexperienced) segment of bike riders speeding through Manhattan like they're seasoned couriers so that they can clock in before they hit that 44 minute mark (unless they decide to check in and then check out a new bike on the same commute, and what New Yorker has the time to do that?).
Also of note: it'll cost you $1,000 if you lose one, so don't do that. The sparkly new website also has a schedule of demonstrations for the new program, coming up next week:
Flatiron
(Broadway btw 22nd and 23rd)
May 10, 2012
12-4 pm

Hell's Kitchen Flea Market
West 39th Street between 9th & 10th Avenues
May 12, 2012
12-4 pm
Auto-motorists, you've been put on notice: New York City is about to become a bicyclists town, and you just drive in it. Also, here's hoping Citibank can sponsor something more fruitful than the baseball field they had named after themselves, because bikers crashing and burning with distinct ritualism every early September would be bad.
Also, because they should be called Taxpayer Bikes.
fkamer@observer.com | @weareyourfek