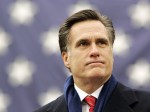 A bombshell in The New York Times today revealed that a conservative Chicago billionaire is planning a $10 million ad campaign tying President Barack Obama to his controversial former pastor, Rev. Jeremiah Wright.
The plan, however, appears to be backfiring. Not only did news of the ad campaign leak before any political damage could be done, but now Democrats are trying to tie the story to Mitt Romney, accusing him of acting "tepidly" and failing to John McCain's standards of behavior.
"This morning's story revealed the appalling lengths to which Republican operatives and SuperPacs apparently are willing to go to tear down the President and elect Mitt Romney," campaign manager Jim Messina said in a statement. "The blueprint for a hate-filled, divisive campaign of character assassination speaks for itself.  It also reflects how far the party has drifted in four short years since John McCain rejected these very tactics.  Once again, Governor Romney has fallen short of the standard that John McCain set, reacting tepidly in a moment that required moral leadership in standing up to the very extreme wing of his own party."
It remains to be seen exactly how much Rev. Wright will be a story in this year's campaign. Had Mr. McCain listened to some of his advisers and hit Mr. Obama on the pastor, the 2008 race would have looked very different. Four years later, it is  a little hard to see the association mattering quite as much, since most voters feel like they already know Mr. Obama, and such tactics tend to work best when a candidate remains undefined in the public's eye.