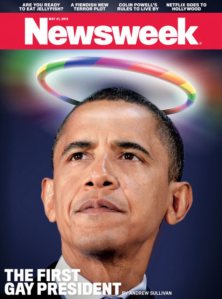 Today, the Obama campaign announced the launch of "Obama Pride: LGBT Americans for Obama." To mark the occasion, Obama For America LGBT National Vote Director Jamie Citron, National Campaign Co-Chair Joe Solmonese and campaign spokeswoman Clo Ewing held a conference call with reporters in which The Politicker asked them about recent polls, specifically one in Florida, showing President Barack Obama's recent announcement in support of same sex marriage may hurt his chances of re-election. Both Ms. Ewing and Mr. Solmonese said they're not concerned about the president's gay marriage stance having a negative impact at the polls in November.
"I'd point to a couple different things; I'd point to the fact that there've been a number of polls that have come out, I haven't seen that specific Florida poll that you're referencing, but there have been a number of national polls that have come out since the president's statement on marriage equality," Ms. Ewing said. "What those polls show, are … more people supporting same sex marriage than before and … pointing to the fact that same sex marriage or marriage equality is not the first, second, third, or even fourth most important issue to them as they think about November and they head in to the ballot box."
The poll in Florida, which was conducted by Quinnipiac, found that 25 percent of voters say Obama's gay marriage endorsement will make them less likely to vote for him compared to 11 percent who say it makes it more likely he will get their vote. Among independent voters in Florida, which is a crucial swing state, 23 percent say the president's support of same sex marriage will make them less likely to vote for him. A national poll conducted by NBC News and the Wall Street Journal found 17 percent of voters nationwide say they are more likely to vote for the president following his gay marriage announcement and 20 percent are more likely to support Mitt Romney as a result of his endorsement of marriage equality.
Mr. Solmonese said he sees many indications the announcement wont have a negative impact on the president's re-election bid including polls showing the issue doesn't rank as a high priority with many voters. He was particularly pleased with reports about the reaction of African American voters, who gay marriage opponents have hoped would come out against the president because of the gay marriage issue.
"The president did what he did because he thought it was the right thing to do. He understood, as in anything he does, that there's going to be a reaction to it in various parts of the country. … While that may be true in Florida, I have been heartened to see polling numbers in various states around African American voters and, quite frankly, a way in which I think other things have unfolded on the heels of the president's announcement particularly the NAACP for instantly coming out in support of marriage equality," said Mr. Solmonese. "This election, like all elections, from this point to November is going to be a roller coaster ride on any given day, I think particularly in some of these battleground states. We're going to see a lot of movement."
During the call, the leaders of Obama Pride characterized this election as a very clear choice between Mitt Romney who they described as "to the right of" George W. Bush on gay issues and a president who has made much progress for the gay community including; appointing lesbians and gays to Executive Branch positions, signing the Hate Crimes Prevention Act into law, repealing Don't Ask Don't Tell, battling bullying in schools and making progress in the fight against HIV/AIDS.