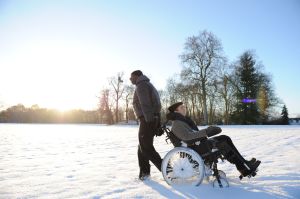 Already a huge hit in Europe, France's crowd-pleasing The Intouchables seems destined to repeat its success here. Written and directed by Eric Toledano and Olivier Nakache, it's the factual story of an unconventional relationship between a millionaire quadriplegic from the ritziest neighborhood in Paris and his Senegalese caregiver from the ghetto—a bond that begins as a working one but builds, through trust and care and shared experiences, into a lasting friendship that changes two unhappy lives forever. It has warmth, humor and an understated sweetness that is not to be taken for granted.
The daily manifestations of washing, changing, massaging, shaving, cleaning, spoon-feeding and lifting a paralyzed patient are so daunting that Philippe Pozzo di Borgo (played with heartbreaking patience and moment-to-moment honesty by the great French actor Francois Cluzet) is always interviewing new job applicants. Many over-qualified nurse-companions apply, but there is something intriguing, irritating and challenging about Driss (Omar Sy) that rouses Philippe's curiosity. The man's rebellious spirit, irreverent attitude and lack of pity are refreshing. And he more than lives up to his promise. Driss hates the job at first, refusing to change Philippe's diapers, insulting his taste in music and generally marking time until he can go back on welfare. But the film derives its emotional impact from the surprising ways the two men overcome their differences and learn to help each other to a better level in life.
Driss is a homeless man with a criminal record for robbery and no focus or direction. He's rude and arrogant, with his own blunt brand of pragmatism and logic. The first thing he does is steal a priceless Fabergé egg that belonged to Philippe's beloved late wife. Philippe is a rich invalid with nothing to live for who is warned by his staff and his business advisors to be careful about granting a man of unsavory character access to his home and unlimited power over his deteriorating physical condition. Gradually, their horizons expand. So aghast at the price of a painting Philippe buys in an art gallery that he decides he can do it better himself, laughing hysterically at his first visit to the Paris Opera, acting as a makeshift therapist to Philippe's neurotic teenage daughter, teaching his boss how to smoke a joint while making him listen to Earth, Wind and Fire, Driss exerts an influence that heals some of his boss's emotional pain. Philippe, in turn, teaches his uneducated caregiver to appreciate Vivaldi and passes him off to the pretentious art world as an important new painter whose work is worthy of a pricey investment. Since Philippe was paralyzed from the neck down from a paragliding accident, you can't help but feel the terror and the ultimate thrill of their bond when they share the risk of paragliding to Nina Simone's "Feeling Good."
Eventually Driss learns compassion and responsibility while Philippe gains courage to take control of his own life and even seek romance. It's all a bit too neatly resolved and, although it is a true story, some of the incidents are hard to swallow. For laughs, Driss stages an elaborate, life-threatening high-speed chase through the streets of Paris while Philippe fakes having an epileptic seizure to get a police escort to the hospital emergency entrance. Then when the cops leave, they drive away, pleased with their mischief. I had a rough time joining in the fun myself. Issues of class and racial tension pop up only in the underprivileged world Driss comes from. Philippe's upper-class milieu seems to take everything in stride—suspicious at first because a black man from the streets given full reign in a mansion filled with treasures is a worrisome thing. But Driss wins over every white man in sight, especially when he shows off his hip-hop skills, and before it ends, he has total control of the house and everyone in it. A bit of a credulity stretch there, not to mention the fact that when Driss buys his first suit, Philippe's secretary says he looks like Barack Obama. Sometimes the writing dispenses a condescension the filmmakers might not even be aware of. Still, the film has a life-affirming resistance to sloppy sentimentality that is bracing. And the acting is dynamic. For obvious reasons, Mr. Sy has all of the movement and action, and he's a lively, colorful counterpart, but the wheelchair-bound Mr. Cluzet is the revelation. His expressions reveal myriad emotions from a motionless face that tell volumes about what he is thinking, feeling and sharing from within.
The Intouchables serves up a tasty abundance of charm, warmth and humanity that makes its popularity in Europe understandable. It's the kind of feel-good movie that turns up as rarely as a winning lottery ticket.
rreed@observer.com
THE INTOUCHABLEs
Running Time 112 minutes
Written and Directed by Olivier Nakache and Eric Toledano
Starring François Cluzet, Omar Sy and Anne Le Ny
3/4