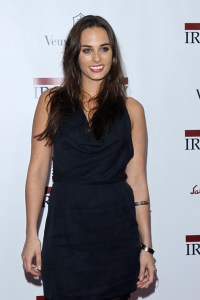 Most 24-year-old New Yorkers are putting up with the indignity of shared bathrooms and subdivided living spaces converted into pseudo-bedrooms with pressurized walls.
But not Sophie Auster, whose lit-star dad Paul bought her a one-bedroom condo when she was a senior at Sarah Lawrence.
During an extended tour of Ms. Auster' amazing condo, the budding chanteuse reveals to the Post that daddy dearest, who lives in a regal Park Slope brownstone, had considered purchasing a Paris pied-a-terre. But when the economy began to hiccup in 2008, Mr. Auster dropped the idea of a pad in the city that fostered his early literary life, opting instead to buy his daughter a place in Hudson Square.
"They thought, well, if we're going to invest money in some place, we might as well invest it in a place for our child to live while she is trying to do what she wants to do," Ms. Auster told the Post.
Not that she was initially all that grateful for the $975,000 gift, even if it did come with Brazilian Wenge wood floors and a kitchen with custom concrete counters. During her senior year, it was a huge pain to commute to Bronxville to finish her remaining college requirements.
"I had a 9 a.m. art class 'cause you need a visual arts to graduate, and I needed some credits, and I hadn't taken one. So I had this 9 a.m. painting class and I had to wake up at like 6 a.m. twice a week just to make the train and get there on time," Ms. Auster moaned to the Post, making our hearts twinge with empathy. After all, do we not all carry burdens bequeathed to us by our parents, and are we not somewhat crippled and warped by these burdens, even as we try to forge new, adult lives? Or in Ms. Auster's case, as our parents finance and foster our new, adult lives so that we may become our greatest and most creative selves?
These days, Ms. Auster—a musician who names her influences as, among others, Tom Waits, the Beatles, Radiohead, Fiona Apple, Emily Dickinson and her father—loves her Zinc Building pad, especially the 11-foot ceilings. Great acoustics!
"I like how high the ceilings are because if they weren't, I think it'd feel kind of cramped," she told the Post. She also doesn't have to worry about keeping roommates up, if she gets the itch to practice—or indulge other desires—in the middle of the night. "Living with a roommate was a good experience, but I really wanted to live alone after that," Ms. Auster admits of her post-collegiate self.
She also loves the nearby Smith and Mills bar.
"It's in an old carriage house that held horses, so it's really small, but it's a cool dive. Really good drinks," she says of the bar that serve $13 cocktails, Dom Perignon by the bottle and desserts like bourbon apple crumble with marscapone whipped cream.
The only thing she misses? She wishes they'd put a bodega in the building. But for bodegas, she'll probably need to move to Washington Heights or Bushwick—one of the those neighborhoods populated by young people living without the benefit of parental largesse.
kvelsey@observer.com