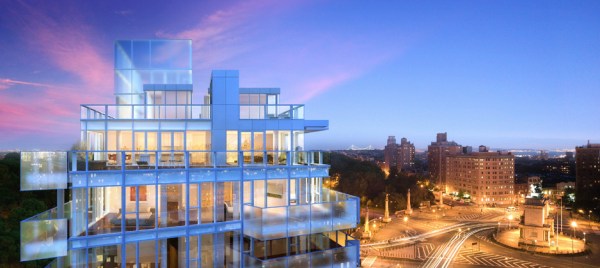 Things may have looked bleak during the recession for On Prospect Park, but the tower's most expensive penthouse has finally sold for $5.1 million, just as everyone knew it eventually would.
Are boom times here again? Well, when it comes to gentrification in Brooklyn, Prospect Heights in particular, it's not a question of if but when, and Prospect Heights was already pretty far gone when the sleek tower was just a rough sketch in Richard Meier's head. Even if The New York Times did call the starchitect-designed condo "a wall of windows into the real estate bust" back in 2009.
Never-before-occupied penthouse 16S was the most expensive condo on the market and the $5.1 million sale (at ask, but maybe not original ask) sets the record for On Prospect Park (known to the postal service as 1 Grand Army Plaza). The next highest sale was another penthouse—there are five—that went for $3.9 million last winter. That was eclipsed just yesterday by the sale of penthouse 16N, which Brownstoner reported sold for $4.9 million, though today's sale of the neighboring unit now bests that.
So who bought this shiny, many-windowed, prodigiously-terraced 3,500-square foot penthouse? The clandestine KFRC Brooklyn LLC., that's who. And KFRC may live in a glass-walled house, that doesn't mean he/she/they wants to be seen.
Corcoran Sunshine listing broker Cheryl Nielson-Saaf told us that she had to keep absolutely mum on the buyers when we reached her on the phone. The project is now being brokered by Brown Harris Stevens, as well.
Perhaps it's a Manhattan ex-pat frustrated by ever-rising rents? Or a Brooklynite who wants the ease of doormen and swimming pools rather than trudging up and down the stairs of some quaint brownstone?
In any event, the buyer will be getting a master bedroom suite with views of the harbor and its own private terrace, as well as a living/dining room and kitchen that span over 50 feet with balconies and terraces across the full width. There's also a huge private roof terrace, where you can sit among your lovely greenery and gaze out at the greenery of Prospect Park.
Plus, at 75 percent full, the building's no longer the ghost town it once was.
kvelsey@observer.com