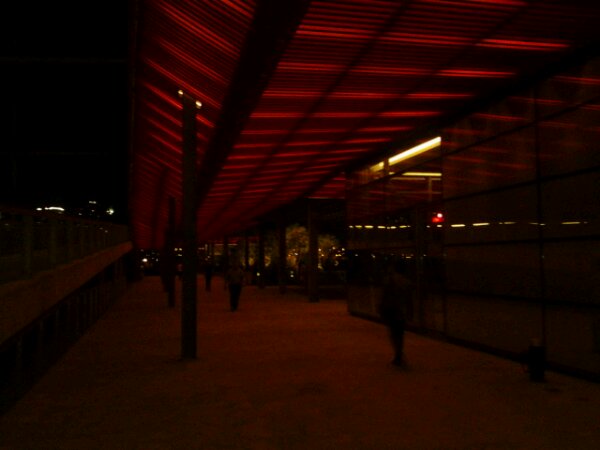 That's what Gregg Pasquarelli, the SHoP principal told us last night, at a party on the pier, part ribbon cutting (even though the thing opened last fall) part book launch (even though that came out three months ago). Really, this is one of the hottest firms in town, so whenever an opportunity presents itself to drink and party, it is taken.
As The Observer was leaving, Mr. Pasquarelli grabbed our arm and pointed out to the FDR, the underside of which glowed a faint purple.
"You've got to take your wife out there, I promise she's going to kiss you," he said. "It happens to everyone."
Yes, the architect had turned this hulking piece of unromantic infrastructure into a love canal. Right now it's only about 50 yards long, right around Maiden Lane, but some day soon it will stretch two miles, the entire elevated length of the FDR through Lower Manhattan, alongside the East River Esplanade that SHoP  designed. It is a landmark, an illuminator, a giant mood light.
"And it's lavender!" Mr. Pasquarelli yelled with glee. "We built a giant lavender streak through the city."
The same spirit infuses the rippling underside of the double decker Pier 15. A floating lawn overhangs a paved dock, where a new restaurant will soon open. The overhang is lined with undulating cedar planks that, when lit from behind with typical strip florescent lighting, the whole thing glows a deep, warm red.
"Don't you just love it?" asked Ellen Ryan, formerly of Brooklyn Bridge Park, now running Open House New York. "That's what I was told, they made the roof red so the lighting would make everybody look good. It's designed so you come out here and follow in live."
And we did. Those SHoP architects—what romantics.