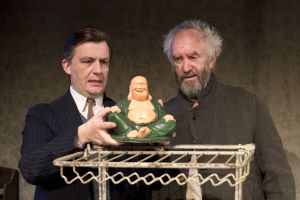 Two brothers share a decrepit East London flat. They take in an aged tramp named Davies, who shares the space until the older brother, Aston, evicts him for making noises in his sleep. After being told again and again to leave, Davies still doesn't listen. "If you want me to go … I'll go," he says. "You just say the word." In the current revival of Harold Pinter's The Caretaker, the audience responds to that line with either tense silence or uncomfortable laughter, depending on the whim of Jonathan Pryce.
"If I think the audience has been laughing too much, I can kill that laugh," he said last week in the lobby of the Brooklyn Academy of Music's Harvey Theater. "I'll even mutter it if I don't want them to laugh any more."
Pinter himself once described his three-man play as, "funny up to a point," and by the time Davies gets the boot that point is long past. When well-acted The Caretaker is raucous, getting laughs that grow uneasy as the second act winds down. This production, which premiered in Liverpool in 2009 and runs through June 17th at BAM, is uncommonly funny and serves as a reminder that a playwright best known for eerie quiet knew how to make 'em howl.
The Caretaker is not an easy play to perform. In interviews with The Observer, Mr. Pryce called it "quite elusive." Alan Cox, who plays Aston, used the words "mysterious" and "flimsy." In the wrong hands, said BAM's executive producer, Joseph V. Melillo, "it would be excruciating to sit through." And Alex Hassell, who plays Aston's interior decorating-obsessed brother, Mick, compared it to "catching hair in the bath."
"Just before you've got your hands on it," he said, "it slips away."
Too often, productions of Pinter are designed to heighten the ambiguity, but Mr. Cox said this revival has resisted "the seduction of style."
"We play it very naturalistically," he said. "Why play aliens as opposed to human beings?"
"I would do anything to avoid a false sense of mystery," said director Christopher Morahan, a longtime friend of the late playwright who first directed The Caretaker in 1972.
Mr. Pryce, now 65, has waited for his crack at Davies since 1980, when he played Mick in a production supervised by Pinter. The playwright's advice: don't worship the text.
"He hated the kind of sterile Pinter performance which people refer to as Pinteresque," Mr. Pryce said. "He never understood that word and never wanted it to be used."
Scholars may swear by the famous "Pinter pause," but the playwright told Mr. Pryce to take or leave them as he saw fit. Often, their purpose is not to heighten dramatic effect, but to leave room for a laugh. Still, as rehearsal finished, Mr. Pryce hadn't realized that Mick was funny. During the first preview performance, he finished a long speech about a relative who loved nuts, but "wouldn't touch a piece of fruitcake," and was shocked when the subsequent pause was filled with laughter.
"And it was like, we're off!" Mr. Pryce said.
Since then, he has starred in Terry Gilliam's 1985 film Brazil, appeared in the 1992 big-screen version of David Mamet's Glengarry Glen Ross and won a Tony for Miss Saigon, in a production that was briefly barred from Broadway when Actor's Equity objected to Mr. Pryce playing a half-Vietnamese man. In his spare time he has filled his IMDb page with throwaway parts in Hollywood blockbusters, including the upcoming G.I. Joe sequel in which he plays a character called "U.S. President."
"I'm much more careful about what I do in the theater than what I do on film," he said. "If you look at my CV, it'll prove it."
BAM'S revival of The Caretaker offered him a chance to explore how attitudes toward homelessness and psychosis have changed since Pinter wrote the play in 1960, when Mr. Pryce was a child living in rural Wales, and "a tramp, a hobo, was quite a romantic figure who did walk the highways." Davies spends most of the play good-naturedly searching for a comfortable pair of walking shoes, but beneath his cheer are hints of darkness.
"The end of the play is bleak," said Mr. Morahan. "There's not much to laugh about there."
The point at which the play stops being funny comes deep into the second act, when Aston goes on a long, well-known monologue about receiving electroshock therapy. Davies, who's said twice that he's "never been inside a nuthouse," later admits that he "had a peep in one once."
"I think he had more than a peep," said Mr. Pryce. He himself has had at least that. His Davies is marked by a quiet madness that, it turns out, has personal origins. At the time Pinter was writing The Caretaker, Mr. Pryce's father suffered a nervous breakdown and spent time in "an old Victorian, very forbidding, ex-workhouse" psychiatric institution.
"I certainly had a peep in it," he said. "Going through room after room with doors locked behind you all the time, and what seemed to be hundreds of men, some strapped into their beds with leather straps, and a row of what I took to be padded cells with the little porthole doors down the side. My father recovered. I never talked to him about it again, and I can only assume he did have ECT treatment, because it was very common then. And administered in a way—it's a little kinder now. They weren't anesthetized then."
He said he didn't allow himself to think about it when he acted in the play back in 1980, but the memory of visiting his father supports his performance at BAM, which Mr. Melillo called "radioactive."
"That's quite a solid foundation to work from," said Mr. Pryce. "You feel free to be as bonkers, as erratic, as funny as you wanna be."
But for the most part, Davies's darkness remains cloaked, and the horror that awaits him outside only becomes real in the play's last, fraught moments. Until then, he is all sweetness and light, trying on shoes, flattering the brothers and carefully folding his trousers. He even breaks into the occasional jig.
"There's a slight sense that maybe Davies is a down-at-heel vaudevillian," said Mr. Cox.
Mr. Hassell asked Mr. Pryce for advice on playing Mick, but Mr. Pryce remembered little about his 1980 performance. What he does remember is Warren Mitchell as Davies, from whom he lifted "certain bits of business," including the way he folds the trousers. They both chose to play Davies with a thick Welsh country accent.
In 1980, Mr. Mitchell threw a tantrum on the first day of rehearsal when director Kenneth Ives said the accent didn't work. The production was put on hold while Mr. Mitchell, a tennis fanatic, challenged Mr. Ives to a tennis match that would decide how Davies would talk.
"The next day we walked in," Mr. Pryce said, "and there was Ken Ives with his arm in plaster. He'd been thoroughly defeated on the court. His arm was broken, and he had to concede that Warren was indeed gonna play it with a Welsh accent. But I didn't have to go that far. I just said, 'I am Welsh, so I'm doing it Welsh.'"
editorial@observer.com