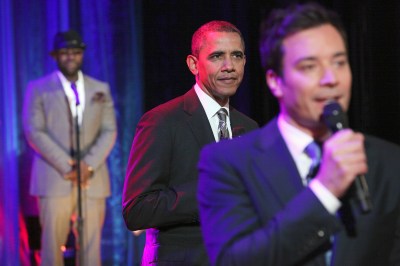 This weekend, many members of the media joined the White House Press Corps in welcoming Jimmy Kimmel and his vaguely inoffensive humor to the Washington Hilton, where the comedian and late night host spent over an hour joking about the President eating dog and Governor Chris Christie eating Olive Garden.
While we skipped out on the festivities as a result of our complete aversion to political proms where the dorkiest kids hire the most expensive escorts as dates (Fawn Hall is one thing, but we doubt that Lindsay Lohan or Kim Kardashian could even figure out how to use a shredder) we were impressed by the sheer randomness of celebrities who chose to attend the dinner and the pre-and-post parties. Who knew that Darren Criss from Glee–and more recently, a two-week stint in How to Succeed in Business Without Even Trying–had such an interest in politics? Or Cam and Mitchell (Eric Stonestreet and Jesse Tyler Ferguson) from Modern Family?
Meanwhile, neither Scarlett Johansson nor Sean Penn made an appearance this year. Have the two of them gotten bored with the D.C. dance as well, or were they just afraid of the awkwardness of running into each other? No, we get it. ScarJo was busy promoting The Avengers, which closed the Tribeca Film Festival on Saturday night. And who wouldn't choose a Marvel universe over one where Jimmy Kimmel high-fives the President right before telling his former teacher to "Eat it, Mills!" Someone call Spider-Man: he made a much better partner for the P.O.T.U.S.