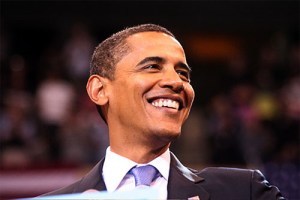 President Barack Obama has gone on the attack against Mitt Romney for his career at the private equity firm Bain Capital and cast himself as an aggressive crusader for reform in the financial industry, but he took decidedly more friendly tone toward big business last night at a fundraiser hosted by Hamilton "Tony" James, President and COO of the private equity giant Blackstone Group. In his speech at Mr. James' home in Manhattan, the president argued his focus on social programs is actually better for big business than the Republicans' push for more tax cuts.
"I think all of us benefit from the freedom of free enterprise. But if you look at our history, what we also realize is that what makes our markets work and what allows us then to go out and pursue our individual dreams is that there are some things we've done in concert," President Obama said. "There are some things that we've done as a common enterprise — making sure that our schools are teaching our kids the skills that they need to compete in a new economy; making certain that we're investing in science and research so that the next medical breakthrough or the next great business idea takes root right here in the United States; making sure we're investing in roads and bridges and airports and broadband lines and wireless networks that allow–that provide a platform for businesses and individuals to succeed; and making sure that we've got basic rules of the road in place so that the markets function in a transparent, clear way so that small investors have confidence if they invest on Wall Street they're not going to get bilked by somebody who has more information than them."
Surrounded by oil paintings in ornate gold frames guests seated at tables adorned with gold flowered cloths, the president went on to describe this election as a test between "that view, which says, yes, we believe in individual initiative and we believe in risk-taking and we believe in markets and entrepreneurship, but we also believe in doing some things together, because all of us prosper from that" and the view that "everybody is on their own; we slash taxes more for those of us who have been incredibly fortunate and blessed by this system." According to President Obama, the tax cutting approach leads to a situation where "those rungs on the ladder to upward mobility start to fray" and "people are left to fend for themselves."
"There is a theory that that, somehow, is going to unleash the kind of growth that we imagine for this country," he said. "My argument is, is that we tried it and it doesn't work.  It's not good for the markets.  It's not good for business.  It's not good for consumers.  It's not good for our kids.  It's not good for our future."
President Obama finished his remarks to the well-heeled crowd at Mr. James' house, by reiterating his belief that the choice between these two economic approaches is the main issue of this presidential campaign.
"That's ultimately what this election is going to be about," he said. "When you cut through all the other stuff — there's going to be a lot of noise and a lot of day-to-day skirmishes and arguing — but ultimately it's going to come down to, whose vision do you believe?"