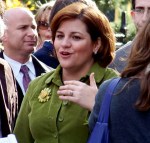 Dharun Ravi, the Rutgers freshman who spied on cyber-spied on roomate Tyler Clementi in what prosecutors say was a homophobic hate crime that may have led to his roommate suicide, was sentenced to 30 days in prison today.
But even though prominent gay rights activists have been calling for leniency in the case, Council Speaker Christine Quinn sent out a statement today blasting the judge and calling for further penalties for Ravi. 
After the jury in the Tyler Clementi bullying case showed such courage, the system of justice has failed. Dharun Ravi's bullying contributed to Tyler's death. Yet, Mr. Ravi has shown no remorse and accepted no responsibility in the case. Still, the court sentenced him to only 30 days in jail. This is an outrageous slap in the face to all who believe in equal justice for all. I support the prosecution as they go forward and appeal this ruling.

As we move from this moment, we continue to work to make sure that all LGBT people are accepted as equals. Rest assured that our message is very clear: bullying in any form is not acceptable and will not be tolerated in our communities.
Despite Ms. Quinn's statement, there remains much doubt about how much Ravi's actions actually led to Clementi's death, and the New Jersey native was not charged with his roommates death during the trial.
It is interesting that Ms. Quinn is siding with some of the hardliners who have called for harsher punishment in this matter. Ms. Quinn has become one of the leading spokespeople for LGBT civil rights, especially after her wedding to longtime partner Kim Catullo over the weekend. She has been dogged however by some protesters who accuse her of betraying her roots in left-wing LGBT circles.