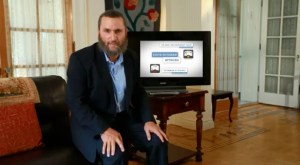 Author, spiritual guru to the stars and Republican congressional candidate Shmuley Boteach says he wants to help his potential Democratic opponents who are currently embroiled in a nasty attack ad-filled primary battle. Mr. Boteach released a YouTube video today that appears to have been filmed in his living room in which he offered to help make peace between Steve Rothman and Bill Pascrell.
Messrs. Rothman and Pascrell are both current congressman and former friends who are running against each other after the redistricting process left Mr. Rothman with an unfavorable district. Mr. Boteach thinks he can help them "reduce the tensions that have totally overtaken their congressional race."
"I hosted a TV show on TLC called Shalom In The Home where I actually mediated families across the country creating greater harmony," Mr. Boteach says in his video. "I want to offer my services to congressmen Rothman and Pascrell to try to bring a more civil tone to their campaign."
Though Mr. Boteach says he's not interested in judging Messrs. Rothman and Pascrell, he seems to do exactly that in his video about their campaign.
"This is why Americans are tired of politics and why Congress has a nine percent approval rating. … People are sick of the negativity," Mr. Boteach says. "Now, I'm not here to judge and I realize these guys have been in Congress for 16 years and they don't think there's any life outside of Washington, so they're going to hold on until you pry their cold dead hands away from that seat, but I'd like to help them a little bit and maybe mediate this."
Mr. Boteach says he's offering to mediate because, if he secures the Republican nomination, he will have to run against the winner of the primary between Mr. Rothman and Mr. Pascrell.
"I'm going to volunteer to help them in any way that I can because whoever wins this race is someone that I may have to run against," Mr. Boteach says as clips of Mr. Rothman and Mr. Pascrell's attack ads play on a screen behind him. "I don't want all of you to have to watch this. I want you to hear what we have to say about the important issues of our time."
Watch Mr. Boteach's video below.
[youtube http://www.youtube.com/watch?v=eJ-9xjtdxbY]