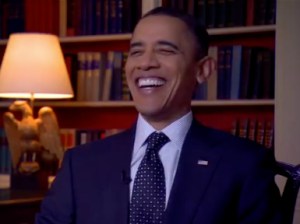 President Barack Obama will be in Albany tomorrow. In honor of his visit, Allie Brandenburger, a regional press secretary with the Republican National Committee, sent an email to reporters who might be covering the president's upstate trip.
"With no record to run on, President Obama is sure to blame someone else for leaving the middle class behind," Ms. Brandenburger wrote. "But he's been President for the last 4 years and it's his failed record that has left working families with less in their paychecks."
As the Romney campaign did earlier this afternoon, Ms. Brandenburger argued the economy has gotten worse during President Obama's first term.
"On the trail in 2008, candidate Obama promised to help the middle class, but the past 3.5 years of the Obama economy have left working families behind," she said. "It's harder to get a job, buy or sell a home, and those fortunate enough to have jobs often have less in their paychecks. From the economy to the middle class, President Obama hasn't lived up to his promises and he cannot escape his failed record."
Ms. Brandenburger's email also highlighted the change in venue for the president's event in Albany. President Obama was initially scheduled to speak at the computer chip plant GlobalFoundries, but he switched to the University of Albany's Nanotech Complex. Aides to the president blamed the switcheroo on "the amount of available parking and "the location's distance from the Albany airport," but Ms. Brandenburger has another theory. Linking to a Politico article that revealed GlobalFoundries is owned by the government of Abu Dhabi, Ms. Brandenburger speculated the president changed his plans to avoid visiting a foreign business.
"Interesting to note the event change for tomorrow," Ms. Brandenburger wrote. "Wouldn't want to hold an event at a foreign owned company when after 3.5 years of your own Presidency, the unemployment rate is still above 8%…."