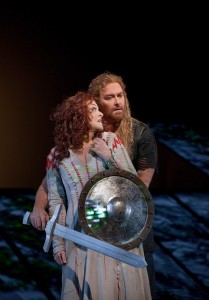 Roberta Smith, one of two chief art critics at The New York Times, has a nice meditation on the Robert Lepage production of the Wagner Ring Cycle in today's paper, particularly the controversial "machine" that accounts for much of the opera's staging.
Ms. Smith is stepping out of her comfort zone a bit in writing about the topic (she admits in her first sentence that she is "not a Wagner buff"), but she does give an even assessment of the machine, something certain critics have derided as clunky, awkward and a distraction from the performance. As someone who sat through the cycle's six-hour conclusion, "Götterdämmerung," I can say that in my opinion, despite  some flaws, the machine is worthy of the strong defense it receives from Ms. Smith. She focuses specifically on the video projections on the machine's so-called planks, which provide the setting for many of the scenes:
The Lepage "Ring" is really an orgy of video, carefully sequenced and impeccably presented, relayed by 10 high-definition projectors and aided by sparing use of motion sensors and even voice-activated imagery…What I saw at the Met was not so much video art as a very advanced, dazzlingly mutable version of stage-set painting, which is perhaps even better, or at least more useful. Video's light-filled immateriality and the ease of scene-changing seem especially suited to the way Wagner's narrative roams through time and space — to spheres both natural and imagined — with little regard for logistics.
Read the full article here.