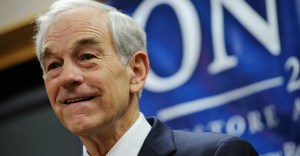 Ron Paul's official campaign website published a copy of a Minnesota Star Tribune op-ed by "Ron Paul activist and delegate" Craig Westover yesterday in which Mr. Westover argue media coverage of the "fringe of the Ron Paul movement" is akin to focusing on "the remnants of the gay-rights fringe," which he describes as "shirtless hunks in leather tutus and motorcycling 'Dykes on Bikes.'"
"Shirtless hunks in leather tutus and motorcycling 'Dykes on Bikes' are no longer the point of the gay-rights spear," Mr. Westover wrote. "It's the gay lawyer/gay accountant, lesbian legislator/lesbian physician–same-sex couples with kids and fundamental concerns about faith, family and freedom–who are now the face of the movement. Focusing commentary on the remnants of the gay-rights fringe is something the media would never do."
Dykes on Bikes is a lesbian motorcycle club that formed in the late 1970's. However, they have said their usage of the term is an attempt to reclaim the slur from within the lesbian community.
When the column was republished on Mr. Paul's official site, an introduction was added saying, "Westover makes interesting comparisons, to both religious conservatives and the gay rights movement." Mr. Paul has a history of making controversial statements about the gay community. In his controversial newsletters from the early 1990's Mr. Paul blamed the spread of AIDS on "malicious" gays. Earlier this month, Mr. Paul's son, Kentucky Senator Rand Paul responded to President Barack Obama's announcement in support of gay marriage by saying he didn't think the president's "views on marriage could get any gayer."
As of this writing the Paul campaign has not responded to a request for comment on this story.