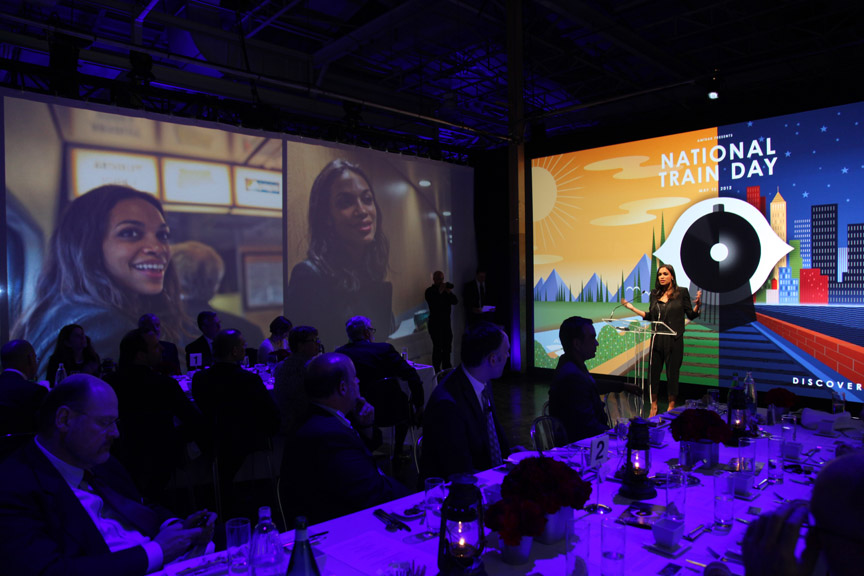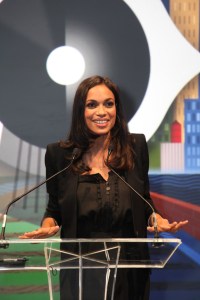 "My oldest memory of riding the train? I don't know, that's hard," Rosario Dawson told The Observer last Tuesday night. "I was born in Coney Island, but grew up on the Lower East Side, so we spent a lot of time on the F-Train, going to the beach. My dad used to wear his little shorts, and the knee-high socks. He was the most handsome guy on the entire boardwalk."
And thus the country's most beautiful railroad buff was born.
Ms. Dawson was standing inside a post office in Midtown, there for a four-course dinner at which she was the guest of honor. She wore a form-fitting black pant suit, ruffled black shirt and black pumps that had to be nine-inches long and sharper than a railroad tie.
This was no ordinary post office, to be fair, but the Corinthian temple on Eighth Avenue known as the James Farley building, once Manhattan's central post office, and certainly its grandest. From a staff of thousands, there is now a skeleton crew of about a hundred, which has freed up acres of space in the building for Moynihan Station. A dream since the early 1990s of the former New York senator for whom it is named, it will allow for the expansion of Penn Station across the avenue and out of the hell it has resided in for the past six decades, since Robert Moses destroyed the original Penn in 1963.
Amtrak and the Port Authority had assembled big wigs from both sides of the Hudson, and as far as Albany, Trenton and Washington, for a dinner to celebrate the awarding of a contract for the first phase of the station, to be ratified by a state agency the following morning. Construction is set to begin on the $267 million project this summer, work that will take four years to complete because the tracks below ground will be still for weekend nights only, and even then only 32 weeks out of the year.
Even then, the best the city will be left with is longer platforms, a new concourse and two entrances on the west of Eight Avenue. When the rest of the billion-dollar station, creating a grand new train hall inside the old post office, will commence is anyone's guess. It was supposed to have begun at least twice by now.
"After 20 years of presentations, releases and announcements, we are finally moving forward with this important project, and I think we will all remember where we were when this happened," Pat Foye, executive director of the Port Authority, told the assembled graybeards as they dug into their second course, crab cakes, available on Amtrak's California Zephyr line, between Chicago and San Francisco.
It is a sad, even pathetic fate passenger rail suffers in America. It is said to be a pet project of President Obama, but wherever he sets out to fund a new tunnel or high-speed rail line, another Republican governor (Christie, Walker, Scott) kills it. The few dozen men and women assembled inside the Farley's cavernous old sorting room, with its soaring skylight and massive steel trusses, maybe someday destined to be the new train hall, hope to stop them.
And so does Rosario Dawson.  She may be the Official Spokesman for National Train Day, but she is also the most earnest train advocate The Observer has ever met who does not have a Lionel set in the basement (we asked). She went on a five-minute breathless tirade enthusing on rail travel during the main course, short ribs and pureed potatoes. She even starred in Unstoppable, a 2010 runaway-train film. This is no Campbell Soup campaign, this is National Hair Club—Rosario Dawson is not only a spokesman, but a rider, too.
"I love riding trains, I do it whenever I can," she said. "In New York, I still ride the subway, sometimes. It's so liberating not to be stuck in traffic. And I love taking Amtrak. You don't have to deal with the hassle of security, and you can actually see the scenery, get up and move, the food is better, and the bathrooms are bigger than a closet. I just took it back from the White House Correspondents Dinner, and it's so much fun to see everyone there on the train."
The train is one of the biggest things Ms. Dawson misses since leaving New York. "That's what I hate about L.A., the constant traffic. I really wish there were more trains." (Actually there will be soon, thanks to a new sales tax funding $40 billion in mass transit over the next 30 years. That would fund two Second Avenue Subways or 15 7-Train extensions.)
Still, like many in the room last week, she was embarrassed by the state of American mass transit. "In London, where I live part time, I'm, across from King's Cross Station," Ms. Dawson explained. "I love watching the people come and go, to be able to get to Paris in a few hours. I had a friend headed up to Leicester, she invited me to dinner, I said, 'Why not,' hopped a train, was on the other side of England and still got back in time for a 6 a.m. shoot the next morning."
"I really hope this new station can help bring people back to train travel, it's so romantic and luxurious," Ms. Dawson said. With her on board, how could it not?