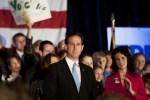 One-time Republican presidential contender Rick Santorum released a statement this afternoon in which he accuse President Barack Obama of making a "capitulation" after his announced support of marriage equality this afternoon. 
"President Obama has consistently fought against protecting the institution of marriage from radical social engineering at both the state and federal level," Mr. Santorum said. "The President recently opposed the North Carolina constitutional amendment and, of course, he refused to defend President Clinton's Defense of Marriage Act before the U.S. Supreme court. The charade is now over, no doubt an attempt to galvanize his core hard left supporters in advance of the November election."
Mr. Santorum, a former senator from Pennsylvania and a favorite of the far-right is an interesting one to watch as conservative try to grapple with this most recent news. If he is making any kind of signal as to how conservative will approach the question of marriage equality, it seems to be that they will a) accuse Mr. Obama of pandering to radical elements in the Democratic Party; b) branding the president a "cultural elite" who wants to tell you how to live your life and organize society. Obviously, the truth claims of either of these points is debatable, but Mr. Santorum is correct that recent electoral battles have shown that same sex marriage is not politically popular.
"Thankfully the American public, when it has had an opportunity to consider the real world consequences of such a fundamental change to our society, has consistently voted for maintaining one man one woman marriage – the basic building block of our society," Mr. Santorum added. "I will continue to fight to make sure that the cultural elites don't further undermine the institution that gives the best opportunity for healthy, happy children and a just and prosperous society."