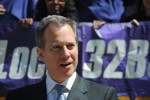 Attorney General Eric Schneiderman filed a brief on behalf of 22 states and the District  of the Columbia urging the Supreme Court to uphold state-level campaign finance laws in the wake of its Citizen United decision, which opened the floodgates to unlimited spending by corporations in federal elections.
"For years, states have been enacting and enforcing laws regulating corporate spending in state and local political campaigns. Applying the Citizens United decision to state and local elections would undermine the principle of accountability, and erode residents' rights to participate in the electoral process," Mr. Schneiderman said. "For the integrity of our democracy, it would be a grave mistake for the Court to automatically strike down state campaign finance laws."
The case before the Supreme Court, American Tradition Partnership v. Bullock, centers around the right of states to write their own campaign finance laws. A state court recently found that Montana's law was constitutional, while Americans Traditions Partnership, a conservative advocacy organization, argues that state bans unfairly restrict the ability of corporations to engage in the political process that also affects them.
According to Mr. Schneiderman's office, their coalition rejects this position, arguing the states have a compelling interest in regulating corporate spending in state and local elections, and noting that unlimited spending could have a far greater impact in relatively low-cost state races.
Joining New York on the friend-of-the-court brief are Arkansas, California, Connecticut, Delaware, Hawaii, Idaho, Illinois, Iowa, Kentucky, Maryland, Massachusetts, Minnesota, Mississippi, Nevada, New Mexico, North Carolina, Rhode Island, Utah, Vermont, Washington, West Virginia, as well as the District of Columbia.
"The Court should reexamine the assertion in Citizens United that independent expenditures, no matter their size or circumstances, rarely cause corruption or the appearance of corruption of federal officeholders, as well as the holding that the federal law at issue in that case could not be supported, in whole or in part, by government interests in preventing distortion of political campaigns and protecting shareholders from the use of corporate funds for political communications they do not support," the brief states.