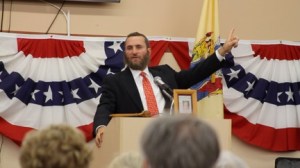 Author, spiritual guru to the stars and Republican congressional candidate Shmuley Boteach doesn't  want anyone using his friend Cory Booker's recent campaign controversy for political gain–except for him.
In the aftermath of the flap over Mr. Booker's comments about the Obama campaign's attacks on Mitt Romney's time at Bain Capital, Mr. Boteach wrote an op-ed in the Jewish newspaper Algemeiner criticizing anyone who would try to score points off the Bain brouhaha. He also included a shot against his probably opponents in New Jersey's 9th congressional district.
Mr. Boteach began his column on an apolitical note.
"For a moment, let me remove my hat as a Republican candidate for public office and speak only wearing my yarmulke, as a Rabbi who has known Cory for twenty years and has had the blessing throughout that time of an intimate, brotherly friendship," he wrote. "Cory is my brother. We are on different sides of the political spectrum. He is a proud and staunch Democrat. But few people have taught me more about being a good person than Cory."
Both the Romney campaign and the Republican National Committee have eagerly latched on to Mr. Booker's remarks that he found the Bain attacks "nauseating." Mr. Booker subsequently clarified his comments with a YouTube video and an appearance on the Rachel Maddow Show. Mr. Boteach wagged his finger at those who would dare try to score political points with Mr. Booker's statements.
"When a person who has a history of bringing people together says he is nauseated by the incessant, bitter political warfare, then perhaps we should all listen, rather than right and left using his remarks for personal gain," he said.
He followed up his critique of "political warfare" by taking a shot against the Democrats he may have to face off against in his congressional race.
"Now, to put my political hat back on, in New Jersey's ninth congressional district where I'm running for office two democratic incumbents, Steve Rothman and Bill Pascrell, are in the midst of a pretty bitter campaign. There have been many attack ads between them. Yet, they were, just a few months ago, longtime political colleagues and friends," said Mr. Boteach. "They might learn from Cory's example. It's his ability to run for office without getting negative that has made Cory New Jersey's most popular Democrat. People are tired of the constant political bickering. They gravitate toward integrity and unity. And as I run for office I want to emulate his special example."
Mr. Boteach wrapped up his op-ed by recounting several times Mr. Booker spent some time "studying Torah" with him on the nights his sons were born.
"He has been arguably America's most inspirational political figure since," Mr. Boteach said.