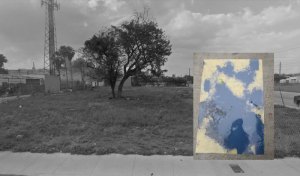 Shoot the Lobster, the new project space started in the backroom at Chelsea's Martos Gallery by Mary Grace Wright, is taking its show on the road this month. On May 13, the gallery will inaugurate Shoot the Lobster – Brighton Beach with a three person show of work by Olivier Mosset, Jeffrey Schad and Vincent Szarek.
The exhibition will be held at 425 Oceanview Avenue in the Brighton Beach area of Brooklyn. Incidentally, this is the house where the artist Ryan Foerster (who has exhibited his work at Martos Gallery) was living last summer when he held a group show in his yard of work by artists like Jacob Kassay, Zak Kitnick, Grayson Revoir, Ben Schumacher, Kyle Thurman and others.
When we ran into Jose Martos at the NADA Art Fair, he said that he wanted Shoot the Lobster to host exhibitions with different artists and curators all over, kind of like a traveling circus. In fact, on May 17, they will host a show, organized by curator Bob Nickas, of work by Ryan Foerster at a vacant lot in Miami. It's being touted as "the inaugural exhibition at Shoot the Lobster – Miami." The so-called Shoot the Lobster Headquarters, however, is still at Martos Gallery on 540 West 29th Street.