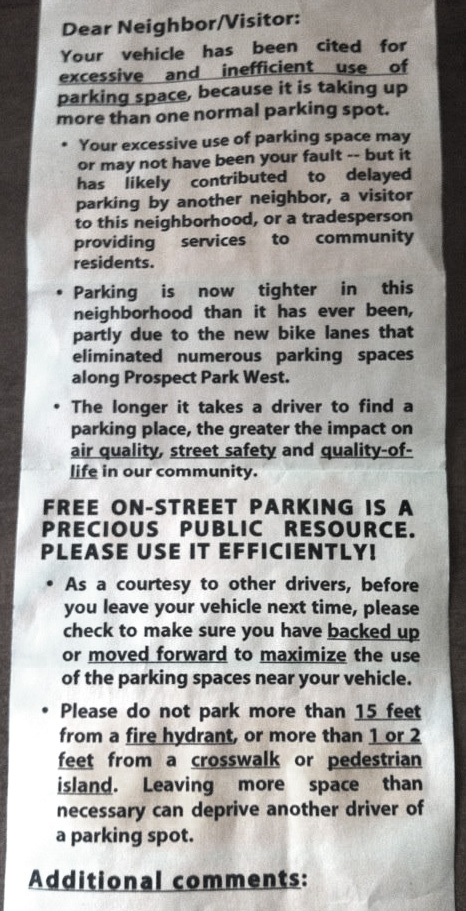 Park Slope residents are fed up, and this time it's not about those ice cream pushers in the park.
The Brooklyn Paper, in an act of investigative derring-do,  has confirmed what residents have long suspected—a secret parking spot-saving scheme run by the doormen of pricey buildings on Prospect Park West.
The parking ring, long alleged by enraged local residents, is the real deal, the paper reports. Doormen hog parking spaces on street sweeping days, intentionally leaving unparkable half-spaces in front of and in back of cars, then shift the cars around for returning residents.
"I just use my car to hold a spot for them," Vick Narain, a doorman at 44 Prospect Park West, told The Brooklyn Paper. "The minute there's a space, it will be gone within five minutes; someone's always looking for parking around here."
Sneaky!
Mr. Narain also confessed to saving spots by standing in the road when alternate-side parking rules are enforced.
Other doormen denied involvement in the nefarious spot-saving parking ring, although they admitted to moving residents' cars on occasion.
Naturally, residents who must go it alone on the mean streets of Park Slope, without the aid of a doorman, are outraged by such tactics. Street sweeping makes parking miserable enough without unfair advantages.
"Sometimes you spend 30 or 45 minutes driving around looking for a spot," resident Carolyn Byrd told The Paper. "It gets really contentious."
Police say that such tactics are not illegal, but some residents have decided to take justice into their own hands, issuing homemade parking "citations" to space-wasting cars.
In true Park Slope form, the citations are two pages long.
kvelsey@observer.com