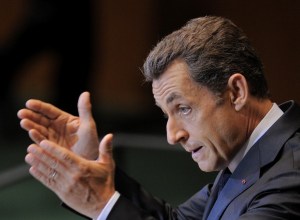 François Hollande beat Nicolas Sarkozy to become the 2nd Socialist French president Sunday night. Mr. Hollande garnered nearly 52% of the vote compared to Mr. Sarkozy's 48%. Mr. Hollande, who follows in the footsteps of the previous Socialist who led France for most of the 1980s, François Mitterrand, declared himself in a victorious speech "the president of the youth of France." CBS reports Mr. Hollande's platform targeted the austerity measures so hated by much of Europe. In a speech Mr. Hollande vowed to increase production, deficit reduction and preservation of equal access to public services.
President Barack Obama has reached out to Mr. Hollande after his win and has invited the president-elect to visit the White House.
Political changes in Greece were perhaps more overtly ominous, as the neo-Nazi Golden Dawn party achieved a firm foothold in the Greek parliament. Golden Dawn's leader, Nikos Michaloliakos, seemed to speak directly to Greeks angry about that country's severe financial situation and the related social unrest:
"The time for fear has come for those who betrayed this homeland," Golden Dawn leader Nikos Michaloliakos told a news conference at an Athens hotel, flanked by menacing shaven-headed young men.

"We are coming," the 55-year-old said as supporters threw firecrackers outside.
Mr. Michaloliakos also promised that Greece was 'just the beginning' and  quoted Julius Caesar for good measure, ominously quoting Caesar's famous "I came, I saw, I conquered."