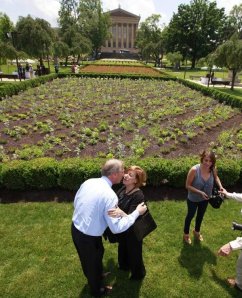 Sol LeWitt's Lines in Four Directions, a floral work commissioned in 1981 by the Association for Public Art (then, the Fairmount Park Art Association), finally blooms, however late, thanks to the Philadelphia Museum of Art.
Lewitt, who died in 2007, conceived of the garden as a seasonally evolving tapestry on this patch of land the size of one third of a football field, The Philadelphia Inquirer reports. Now it's in bloom with thousands of blue, white and yellow flowers. When these die away, they'll be flopped out for blue false indigo, red blanket flower and white gaura.
Why did it take so long?
"Lots of reasons," Penny Balkin Bach, the art association's executive director, told The Inquirer. "The museum wasn't as outward thinking then as it is now. At the time we didn't have partners.…So we set it aside."
Here are the directives Lewitt gave in his proposal:
"Proposal: To plant flowers of four different colors (white, yellow, red & blue) in four equal rectangular areas, in rows of four directions (vertical, horizontal, diagonal right & left) framed by evergreen hedges of about 2' height …. The type of plant, height, distance apart, and planting details would be under the direction of a botanist and the maintenance by a gardener."