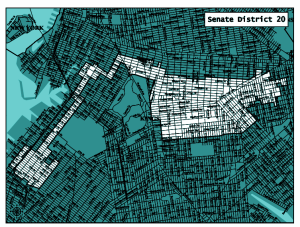 The Senate Democrats' lawsuit trying to throw out the Senate Republicans' redistricting plan based on the addition of a 63rd State Senate seat was blocked this morning by the New York Court of Appeals, the highest court in the state judicial system.
Lawyers for the Democrats contended that the map's unprecedentedly creative accounting techniques were unconstitutional, but the court, in an unanimous decision, ruled that the State Constitution doesn't forbid the move and that the Legislature's map are presumed constitutional unless explicitly proven otherwise.
"It is not our task to address the wisdom of the methods employed by the Legislature in accomplishing their constitutional mandate," the court wrote in their decision. "Rather, here, we consider only whether the methods chosen amount to 'a gross and deliberate violation of the plain intent of the Constitution and a disregard of its spirit and the purpose for which express limitations are included therein.'"
The ruling upholds a lower court's ruling, which found the accounting "disturbing," but could not find reason to intervene.
This is the second blow the Senate Democrats' various lawsuits against the redistricting plan in recent days, as last week, the federal government granted pre-clearance to the map under the Voting Rights Act. However, Mark Favors, an individual deeply involved in New York's redistricting discussion, contended over Twitter that the strongest legal argument is a still-to-be-decided federal lawsuit based on the population variances that overpopulate Democratic districts so that there are less of them, as the U.S. Supreme Court has firmly established a "one person, one vote" principle in the Constitution.
"While we are disappointed with today's decision, we are hopeful that remaining legal challenges will overturn the unfair State Senate maps," Mike Murphy, the Senate Democrats' spokesman said in a statement. "In any event, Senate Democrats remain confident that even if the existing gerrymandered maps are ultimately upheld, Democrats will gain seats and retake the majority in the State Senate this November."
View today's ruling below: