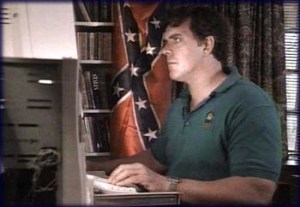 The white supremacist website Stormfront is getting set to host their second annual Stormfront Practical Politics Seminar in September. According to a posting on the site by Stormfront founder Don Black, the seminar will take place in "the all-White east Tennessee Smoky Mountains" and will include discussions of political strategy and a "an informal nature walk through the Smokies" led by former KKK Grand Wizard and member of the Louisiana Legislature David Duke.
"Like last year, this isn't a hand-wringing meet-and-retreat, but a practical politics seminar on winning," Mr. Black said.
Speakers include Mr. Black, former  KKK lawyer Sam Dickson, a white supremacist radio host who goes by "Horus the Avenger" and Mr. Black's son, Derek.
Stormfront and its users have flirted with mainstream political involvement far more than other white supremacist groups. In 2010, Derek Black mounted a high profile, ultimately unsuccessful campaign to be seated on the Republican Party Executive Committee in his home of Palm Beach County, Florida. Mr. Black has donated to Ron Paul and both he and his son were photographed with the Republican Republican candidate at a presidential debate held in Florida in 2007. Late last year, Mr. Black gave an interview to The New York Times in which he said "several dozen of his members were volunteering for Mr. Paul's presidential campaign."