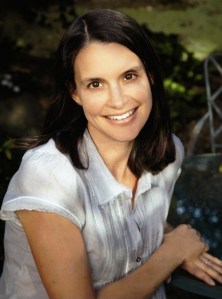 One of the more recent entries in the annals of literary hype that threatens to overshadow actual achievement is Nell Freudenberger. Back in 2001, when the recent Harvard grad was an editorial assistant at The New Yorker, her short story "Lucky Girls" was published in the magazine, and she soon became known, both in New York publishing circles and beyond, as a wunderkind. She happened to be attractive. "Too young, too pretty, too successful" said the title of an article by Curtis Sittenfeld, in Salon. But then came a well-received first novel, The Dissidents, and a short story, "An Arranged Marriage," in The New Yorker's 20 Under 40 Fiction issue, in 2010, and awards, like the PEN/Malamud. And now with her second novel, Newlyweds (Knopf, 352 pp., $25.95), an extended version of "An Arranged Marriage," comes her most successful effort yet, one that shows a more mature voice and the true triumph of her talent over her hype.
As she did in The Dissidents, Ms. Freudenberger has again taken on a foreigner's acclimation to life in the U.S. Newlyweds' appealing protagonist, Amina, is a young, slender Bengali (e)mail-order bride who grew up in and around Dhaka, the only daughter of a hapless dreamer of a father and an ailing mother. The novel follows her to Rochester, N.Y., where she meets her fiancé, George, an unambitious engineer who lives in a generic three-bedroom house on a suburban cul-de-sac, learns the meaning of words like "dumbstruck" and how to shovel snow, and gets a job as a sales clerk at a local retail store called MediaWorks.
George met Amina, we learn, through the online dating service AsianEuro.com, to which he had come in the wake of personal troubles. He fell for her because "she was 'straightforward' and … did not play games." She saw an opportunity to escape her circumstances in a man who seemed honest and well-to-do.
In Rochester, Amina came face-to-face with the banal reality of what "arranged" entails, at least in the beginning—unpleasantly cordial sex and responsibilities, not to one another, but to some greater sense of the American Dream. Meanwhile, Amina attempts to keep intact her ties to her family back home, saving up what little money she earns at MediaWorks and, later, Starbucks to send to her parents, and set aside for citizenship and visa applications. Ms. Freudenberger captures how Amina's panic at getting lost in a shopping mall on her first day of work becomes, strangely, a source of almost erotic excitement:
It was like a nightmare. She had a physical sensation of panic; if she'd had to describe it, she would've said it was in her stomach—although it was more like a lightness in her sexual organ, a feeling that sometimes came upon her at surprising moments (unfortunately not when she was doing that with George). She could hear her mother's voice, Inshallah, but it wasn't God's presence she felt. It was her mother's hovering beside her just as she had every day Amina visited the British Council, traveling all the way there and back with her by rickshaw so that Amina wouldn't have to go alone.
Where Ms. Freudenberger excels, generally, in Newlyweds is in her understanding of familial love and the comical side of learning to live in a foreign land—no mean feat when you consider that she is, herself, a native New Yorker. (She was inspired by a young Bengali she met on a flight to Rochester.)
Many of Amina's experiences in Rochester—spending time alone with manager Carl in the stockroom at MediaWorks, drinking Aunt Cathy's sangria at family dinners, even remaining unmarried to George in her parents' eyes (having failed to have a proper Deshi ceremony)—should have made her uncomfortable, she decides in retrospect, but she is quick to take note that "they had happened only to her American self, a person about whom her Bangladeshi self was blissfully unaware." It is only in the latter half of the novel, when she returns to her native Bangladesh, and her family, that her new life comes in conflict with her old one. Waiting for her in Rochester is a husband whose past, uncovered, remains unresolved. In Bangladesh is Nasir, a family friend and childhood crush with whom she shares a past she was once eager to leave behind, but now  just as eagerly embraces. Amina experiences a disorientation that cuts to her very core:
You thought that you were the permanent part of your own experience, the net that held it all together—until you discovered that there were many selves, dissolving into one another so quickly over time that the buildings and the trees and even the pavement turned out to have more substance than you did.
Unlike in The Dissidents, which was criticized for spreading its focus too thinly among a cast of displaced oddballs, Ms. Freudenberger, in The Newlyweds, keeps her lens trained on Amina, and it's a good move. Amina is unpretentious, a character who shares a common language with the reader. Her perceptions of her new life are inflected by her unfamiliarity with America and those of her past in Dhaka brought to life in an angry vividness where discontent finds anything and everything to latch onto. Ms. Freudenberger's masterful prose makes comprehensible how someone can become a stranger in two places at once.
mwoodsmall@observer.com