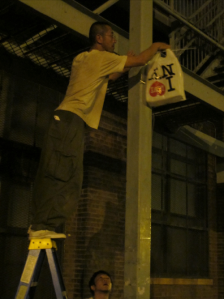 It was the glowing plastic bag seen round the world.
Over the weekend, Takeshi Miyakawa was arrest for his clever I [heart] NY shopping bag installation, which was mistaken for a bomb by the police on two occasions, the first of which shut down Bedford Avenue.
Rather than releasing Mr. Miyakawa on $250,000 bail Sunday morning, as the Kings County District Attorney recommended, the presiding judge at his arraignment ordered him remanded into custody for mental evaluation, which could keep him behind bars for up to a month.
Today, another Brooklyn judge will decide whether or not Mr. Miyakawa, who has been in prison for almost five days now despite reports of his cooperation, can go free.The hearing is expected at 2:30 p.m. The Observer will be in the courtroom, live tweeting the proceedings. Look for #freetakeshi for updates. (Not passing judgment, it's just that hashtag already exists, and you have to admit it has a nice ring to it.)
"Hopefully, he'll be getting out without bail on his own recognizance, given what's happened so far," Louis Lim, a friend and mentee of the designer, told The Observer. "But that's up to the prosecution and the judge. We just want to see him set free, bail or no bail."