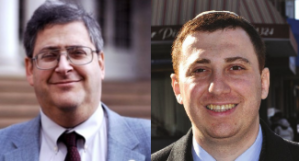 After a brutal campaign and an even more brutal process of counting the absentee ballots, fending off a fraud lawsuit, and an automatic hand recount, Republican candidate David Storobin looks like he's finally set to become a state senator with a margin far narrower than what almost everybody literally predicted.
The Storobin campaign's unofficial count has their candidate up 14 with 8 disputed ballots after the recount basically finished last night. They said even the numbers belonging to the Democratic contender, Lew Fidler, had Mr. Storobin up 11 votes, so even if every contested ballot favored Mr. Fidler (which is not happening), there is no path left that does not lead to a Storobin victory.
For what it's worth, Mr. Fidler did manage to tangibly narrow Mr. Storobin's lead by about a dozen votes when the final precincts were recounted. However, it would seem the Fidler campaign needs the official certification process to deliver surprising results to have a chance, which is probably not happening.
In a conversation with the New York Daily News last night, Mr. Fidler's campaign manager, Kalman Yeger, simply advocated patience.
"With due respect to my friends at Team Storobin, the counting is concluded when the Board of Elections says it's concluded," Mr. Yeger said. "Both campaigns have been instructed by the Board of Elections to return on Wednesday for additional counting. We'll continue abiding by the Board's instructions until it has concluded its work."
Mr. Storobin himself told The Politicker he's looking to be sworn in as New York's newest state senator either later this week or early next one. It might be a short-lived experience, however, as the legislative session ends at the end of June and redistricting has yielded difficult reelection terrain for the Republican candidate.