David Segal, the controversial Council aide who was abruptly fired and then rehired after it was revealed he spent six months in prison for torching an army recruitment facility has been fired once again. Mr. Segal said he heard the news via a letter delivered to him as he was at work in Councilman Rodriguez's legislative office in the Council building on 250 Broadway.
"Six hours after I reported to work, after Councilman Rodriguez re-hired me, I was then re-fired by a letter from Councilman Rodriguez delivered to me by the chief of staff," Mr. Segal said. "I will be coming out with a public statement on Monday which will bring a number of facts to light that haven't been made public up to this point."
According to sources in Mr. Rodriguez's office, the councilman reversed his decision to re-hire Mr. Segal because he became "spooked" after seeing a Tweet from NY1 contributor Gerson Borrero. The Tweet in question criticized Mr. Rodriguez for giving Mr. Segal his job back.
Mr. Rodriguez confirmed he fired Mr. Segal with a letter this afternoon.
"Today, I gave a letter to David Segal where I thanked him for the hard work and dedication during the months of services in my office and in my community," Mr. Rodriguez said. "I also let him know in that letter that his services were no longer needed in my office."
Some legal experts have suggested it may have been a violation of employment discrimination laws to fire Mr. Segal in the first place. Mr. Rodriguez defended his right to fire his former spokesman.
"I acted with the rights that I have as a Council member," he said. "It's at the discretion of the Council member to hire or to stop the services of their staff."
Mr. Rodriguez declined to discuss the matter further.
Update (5:16 pm): Here's a photo of the letter Mr. Segal received from Mr. Rodriguez.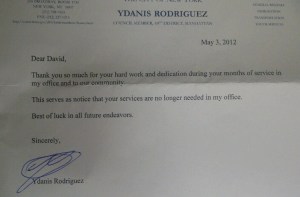 Update (6:01 pm): Mr. Rodriguez contacted us with an additional statement.
"Besides giving him the letter, I terminated David because he betrayed my trust by not telling me the circumstances of his arrest in 2005," he said.