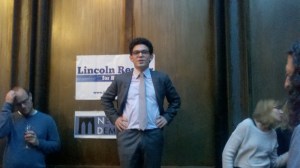 "Look, this election is a whole lot bigger than just one person, especially a little guy like me who needs to stand on this chair," 28-year-old Lincoln Restler declared as he artificially towered over a packed room at the Brooklyn Winery in Williamsburg a couple of weeks ago. "The machine has their candidate, they're going to pour all of the resources they've got into this district leader race. But, for every hack elected official that they've got on payroll, we're going to have to reach out to 10 of our neighbors."
The "machine" in this case is the Kings County Democratic Party and its chair, Assemblyman Vito Lopez. Mr. Restler sees his re-election campaign as a critical aspect of the effort to topple what he describes as the corrupt status quo in Mr. Lopez's organization.
Mr. Restler, who has the honor of holding the obscure position of district leader, is very aware of the fact that despite the lofty rhetoric of his campaign, he's talking about an unpaid office with few official responsibilities.
"Any elected office, even an elected position you've probably never heard of, is a platform to advocate for one's community," Mr. Restler said in his speech, still standing on the chair. The crowd rightfully laughed after "you've probably never heard of."
New Yorkers have a hard enough time remembering who represents them at the City Council, State Assembly, State Senate and congressional levels, so the idea of caring about who represents your district on the executive board of the county Democratic organization indeed seems a little laughable on the face of it.
However, Mr. Restler has managed to elevate his position and is often mentioned as a potential challenger for the City Council seat held by Lopez ally and onetime-staffer Steve Levin—and the district leader job is a potential stepping stone. In what some of Mr. Restler's supporters see as an effort to head off such a possibility, Mr. Levin has recruited Community Board 1 chairman Chris Olechowski to run against Mr. Restler for district leader.
"Lincoln challenged somebody else, and now somebody challenged him, and he's crying all over the place, and I guess you have a right. He's shooting from the hip at everybody, including me," Mr. Lopez put it bluntly. "That's the name of politics. If I didn't do anything, people would say that's not an active political organization."
Before he was elected by the barest of margins in 2010, Mr. Restler was simply an activist who organized on behalf of the Obama campaign in 2008. After the presidential election, Mr. Restler's allies approached Mr. Lopez about getting involved in his organization.
"He brushed off our interest in getting involved and eventually told us joining the community board was the only way for us to get active in our neighborhoods," Mr. Restler said of their efforts when we talked last weekend over huevos rancheros on a patio near McCarren Park.
"We decided we wanted to recruit emerging leaders in this borough to run for state committee," Mr. Restler continued. "And I promise you, we asked smarter, better looking, more dynamic people in the 50th Assembly District to run before me, and when they said no, I eventually stepped up to the plate."
In that race, he ran against Warren Cohn, the son of the man who held the post for almost three decades prior. The election, which Mr. Restler described as "seriously intense," had a rather intense conclusion as well: he won by only 121 votes despite raising more than $60,000, a gigantic sum for a district leader race.
The closeness of the race can be attributed to Mr. Lopez's significant political sway in northern Brooklyn. One of the largest constituencies in the district is Williamsburg's Hasidic community, where the largest sect consistently delivers a huge bloc of votes to Mr. Lopez's candidates. Additionally, Mr. Lopez chairs the housing committee in the State Assembly and has a significant amount of electoral influence in public housing projects, creating a favorable environment for allies like Mr. Cohn in 2010, or an unfavorable one for ongoing opponents like Mr. Restler.